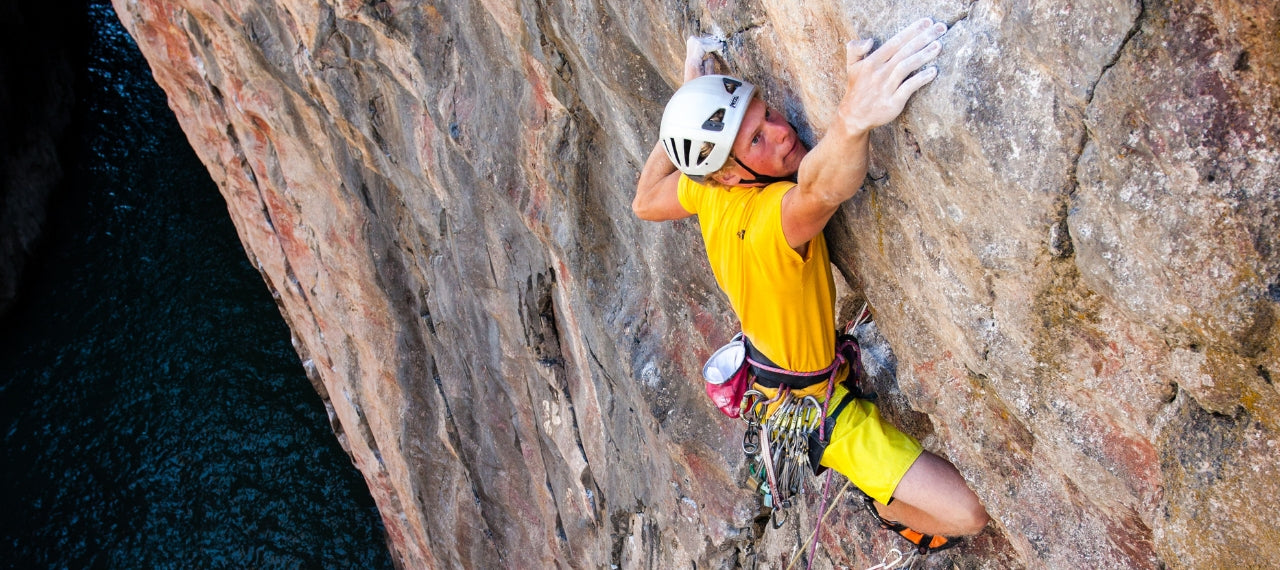 Tom Livingstone is a trad, winter and alpine climber who began his climbing journey on the cliffs of Swanage in Dorset, England. He now travels far beyond his Dorset roots, tackling mountains around the world and opening up new lines along the way. In a conversation with Firepot, he turns his attention back to the UK, with his top 5 recommended climbs.
Scimitar Ridge, Llanberis Pass 
Where: Wales, Snowdonia National Park
Climbing grade: E7 6c 
Scimitar Ridge is one of the more technical climbs in Llanberis Pass in Snowdonia National Park. The Pass is steeped in climbing history, making it a rite of passage for any traditional climber. This particular route, called the '39 Slaps', is tucked away at the top of the Pass and has a difficulty level of E7 6c. This crag is intensive and well-known as a 'pumpy route' — meaning the difficulty lies on your ability to hold on. There are a few creaking holds, lots of side pulls and tricky undercuts.
Photo: Mike Hutton
Swanage cliffs
Where: Dorset
Climbing grades: E3, E5, 6a+
I think Swanage is one of the most underrated crags in the U.K. I might be biased, as it's so local to my hometown in Southampton, but I think it's got all the adventure and excitement of sea-cliff climbing routes in Gogarth and Pembrokeshire — but in Dorset.  I began climbing here and I always relish returning. It's hard climbing, with loose rock, and you really have to commit to it once you're over the sea. The Conger (pictured here) is a classic Deep Water Solo with a difficulty level of 6a+. Other traditional 'pumpy' routes on the crag are Boulevard (rated E3) and The Lean Machine (rated E5).
Photo: Alex Mason 
Nesscliffe
Where: Shropshire
Climbing Grade: E7 6B
This is Nesscliffe in Shropshire, a crag which is relatively under the radar, but it has incredible lines. I find it really motivating to look up at the sheer 30-metre high arete (the pointed corner of the crag) before I start to climb — the lines look so impressive. The moves are hard which makes it great fun.  The route, pictured here, is called 'My Piano' and is rated E7 6b.
Photo: Rob Greenwood
Gogarth 
Where: North Wales
Climbing grades: HVS, E7 6c
Gogarth, in North Wales, is renowned as one of the best sea-cliff venues in the U.K. It's full of brilliant stories and lots of different types of climbing. The routes at Main Cliff are usually safe, but best done on a spring day, while Red and Yellow Walls are for when you're feeling brave. Save your best boots for North Stack, and enjoy the classic routes in Wen Zawn.
When I was in Wen Zawn, I wanted to explore what lay beneath the popular 'A Dream of White Horses (grade HVS),' and came across 'The Fourth Dimension (E7 6c) — first discovered by top climber, Adam Wainwright.  It's a really intricate route, and shouldn't be missed. As an aside, Adam Wainwright and George Smith have become an integral part of the Gogarth climbing community here. Some say they're like the seals that bob in the waters below, except they can always be seen bobbing on their ropes from the tops of the caves.
The Old Man of Hoy
Climbing grades: E7 6c
Where: Orkney, Scotland
Tony Stone and I went for an adventure to the island of Hoy, off the north coast of Scotland. 'The Old Man of Hoy' is the obvious one to climb — it's an iconic sea stack. There aren't many of them left in the world, so get on them before they topple. We climbed The Long Hope route (E7 6c), which probably epitomises UK trad climbing, with mostly good rock, a wild feel and vomiting fulmar birds to contend with.
Photo: Tom Livingstone
Climbers #fuelledbyfirepot
Tag us on Instagram with
#fuelledbyfirepot
or upload your photos here: