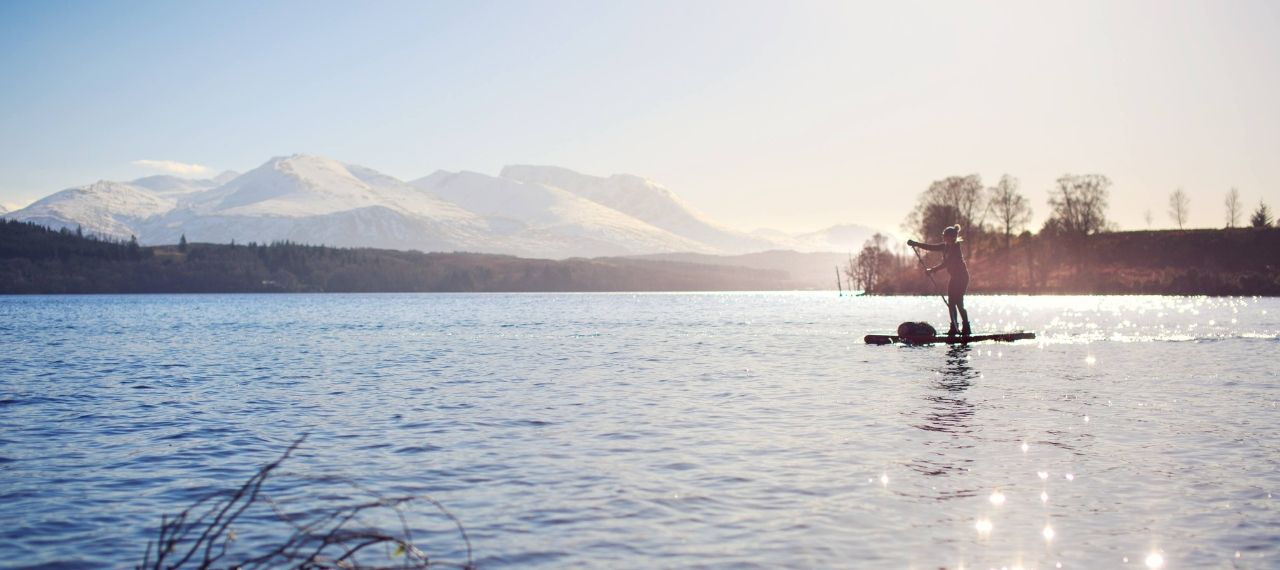 Over the past twelve years, stand up paddleboarding (SUP) has picked up an unstoppable momentum: inspiring circumnavigations of the UK and Mallorca, solo crossings of the Atlantic and 1000-mile-long races down the Yukon River. Firepot talks to some of those at the forefront of the movement, to understand what it is that's driving the sport's sudden rise in popularity — and what this means for the expedition world.
With SUP, the possibilities are endless: there's SUP Polo, SUP yoga, racing, touring, endurance, adventures, SUP surfing, White Water SUP… the list goes on, according to Sarah Thornely from Supjunkie — one of the media teams who covered the 2018 ISA World SUP and Paddleboard Championships in China. Perhaps it's this breadth that has helped SUP propel its way into the mainstream, with sporting bodies such as the ICF and ISA now working towards its inclusion in the Olympics.
During the 2018 Championships, the twelve-strong, self-funded SUP GB team were put through their paces in technical and distance events, the sprint and the team relay, coming in 10th place overall. This is the best result a GB team has ever achieved, one that has "raised the level of exposure and interest, and inspired people to get involved, and even try to get onto the next team" says Sarah. 'It fired everyone up' says Matt Argyle, who was part of the SUP GB team last year.
SUP's inclusion in other major sporting events, such as the Yukon 1000 — the world's longest canoe race — and a solo crossing of the Atlantic by Chris Bertish in 2016, has elevated the sport and opened up exciting opportunities for paddleboarders around the world. "I think the sport is so accessible, you don't need to be on the ocean, you can try SUP on a lake, a river, a canal. Anyone can give it a go, there are no barriers to entry and it doesn't matter what age you are or your levels of fitness" says Matt. What's more, SUP is one of the few sports to introduce a gender equal format; men and women are able to compete side by side. 
A clear indication of this can be seen when Sarah Thornely lists off some of her most inspirational female athletes, such as Ginnie Odetayo — a mum of three who came to the sport just a few years before competing in the 2018 Championships — and Carolyn Smith, who recently paddled 32 miles down the River Witham to raise awareness for Vascular Ehlers Danlos — a little-known, life-threatening condition she suffers from. These are the women breaking down barriers and perceptions in the world of sport. "One thing's for sure," says Sarah, "be prepared to see some incredible achievements by some very normal stand up paddleboarders over the next few years."
The inclusivity of SUP has sparked a number of unique expeditions by ordinary people, who are taking this relatively new sport in exciting new directions. Cat Friend, for whom SUP presented the unique opportunity to quit her office job in London and attempt the first ever SUP circumnavigation of Mallorca, wanted to raise awareness about plastic pollution. Cat and her SUP partner, Valerie Bisbalt, were only able to embark on their world-first attempt when windsurfing and paddle boarding brand, Starboard, gave them two touring boards. "Starboard are big supporters of environmental conservation. They made it happen for us; not only because they gave us the boards, but because they made me feel like we could really do it. Their belief was a real gift" says Cat.
Cat and Valerie went on to complete the 555km Soller to Soller expedition in 24 days, collecting bags of plastic everywhere they went. During this time, Cat and Valerie found plastic in parts of the island that were usually deserted: "at the northernmost point of the island it was overwhelming; we couldn't pick enough plastic out of the water. But you had to keep moving on, else you wouldn't get anywhere" says Cat.    
If this journey proves anything, it's that SUP allows ordinary people to see the reality of the plastic problem, and empowers them to take direct action. "There is now a huge movement to save the planet from the mess we are creating and I think a lot of it has been inspired by the SUP world", says Sarah Thornely. "When you SUP along waterways you are able to see the mess and can actually physically do something about it. Touring at a slower pace lends itself to this." It is perhaps for this reason that the activity and the environmental cause have become so inextricably linked, with other SUP expeditionists, such as Sian Sykes (first to circumnavigate Wales), Cal Major (first to circumnavigate the UK) and Lizzie Carr (the first woman to cross the English Channel on a paddleboard), setting out on high-profile trips to raise awareness of the global plastic problem.
These expeditions do not come without risk. The Soller to Soller trip exemplified some of the key things paddleboarders have to be aware of when setting out on any journey. "The first thing to consider" says Cat "is the weather and tides. It's also incredibly important to bear in mind the traffic in the water. We had a close encounter with  car ferry which was the scariest moment of the trip. You have to remember you are the smallest and least powerful vessel in the water." Preplanning the route is also of paramount importance: Cat and Valerie had help from a local expert from the El Niño Surf Centre to help plan their journey. "Ruben told us what the rough outline of the trip should be. We had a plan and we stuck to it pretty closely. For each point we had marked on the map, we also had a plan B and a plan C in case the weather suddenly changed. This meant we could always reach shelter and water."
But perhaps the secret to SUPs success lies not in the difficulty of the challenge but rather in the sense of liberation you feel when you launch into the water with just a rucksack on your back, and a paddle in hand. "You're so connected; just millimetres away from wildlife, unlike when you're in a motorboat, nature doesn't get disturbed by you" says Cat. "On a paddleboard you're almost part of the gang; we saw a manta ray that was completely undisturbed by our presence… It's completely awe-inspiring and makes you want to do something to preserve it." And the best thing of all? "You don't have to do a crazy expedition to get that appreciation. You can just go out in the morning for ten minutes to experience it."
Expedition tips from the experts:

The number one thing to consider before setting off is the weather and tides.

Beyond the basic necessities such as a tent, sleeping bag, pillow, stove and food, it's essential to look after your safety and to pack a fog horn, flares, first aid kit, GPS, a compass and a jelly fish survival kit.

The key thing is to make sure that the load is balanced - especially if you are heading onto choppy water.
Cat Friend and Valerie Bisbal took 30 extra-large Firepot meals with them on their expedition around Mallorca. SUPJUNKIE and the GB SUP team took 20 Firepot meals with them to the 2018 ISA World SUP and Paddleboard Championships in China.