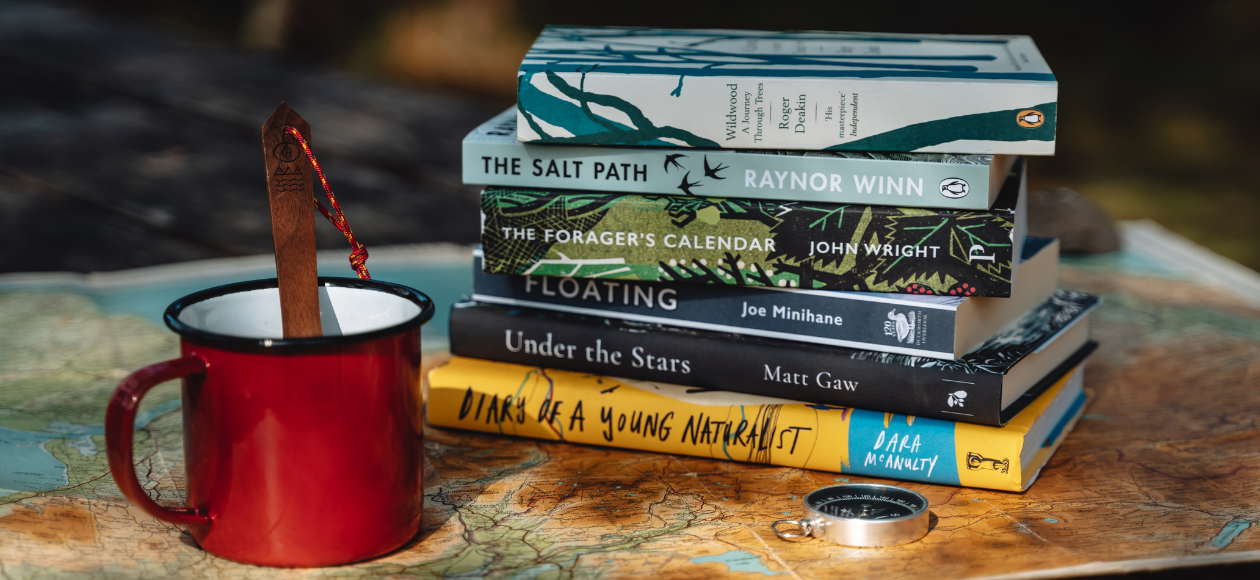 Tim Frenneaux is the founder of Adventurous Ink, described as 'the book club for outdoor folk'. During lockdown, Tim quit his day job to curate a monthly reading list which would inspire adventure and encourage people to reconnect with the natural world. We asked him for his top five book recommendations this winter.
One of this year's silver linings has been the extra time I have to read. Robbed of the opportunity to go on my monthly wild camping trips, I've found myself turning to the same five books again and again all year, in search of solace. 
1. The Great Alone, by Tim Voors
The Great Alone follows Tim Voor's six-month thru-hike of America's Pacific Crest trail. The hardback edition edges into coffee table territory, with an outsized format featuring brilliant photography and Voor's own watercolours, painted along the way. As I turn the pages, I'm transported to the laid-back, West Coast culture of the trail so strongly I can almost feel the stones crunch beneath my feet.  Voor's powerful writing — full of sublime beauty and chance encounters — brings six months of solitary living to visceral life, in a way that makes me want to hitch up my pack and set out on my own long-distance walk.
2. Rewild Yourself, by Simon Barnes
In Rewild Yourself, Simon Barnes promises a series of 'magic spells' to bring wildlife closer to his reader. If you — like me — are somewhat put off by this whimsy, don't give up: Ward's suggestions for reconnecting with nature are inspirational. I adore his description of the 'bottomless sit' — the abandon you feel when you can immerse yourself in nature without distraction. As a kid, I dreamt of becoming a naturalist, spending hours burrowing around the woodland undergrowth near my home. Although I later drifted away from the natural world, Rewild Yourself was instrumental in hooking me back in as an adult. 
3. The Outrun, by Amy Liptrot
Amy Liptrot's debut is far from the classic ode to nature. This is a raw, personal account of Liprot's alcoholism, her breakdown in urban London and her eventual recovery in the Outer Hebrides. She describes the natural environment of the Orkney Islands with luminous clarity with Highland cattle 'running out under the huge sky' and a 'glittering canopy' of salt spray across the tops of waves. Liptrot's deep connection to her native Scotland is clear, and her bravery in telling her story unflinching. Not unlike Raynor Winn in her book, The Salt Path, Liptrot's prose pulls you into The Outrun, bringing the remote Orkneys to life. 
4. The Kindness of Strangers, edited by Fearghal O'Nuallain
The Kindness of Strangers is a brilliant anthology, drawing together excerpts from the works of well-known explorers. With tales of adventure from Levison Wood, Alastair Humphreys, Anna McNuff, Leon McCarron and more, each chapter is chosen to underline a simple message: kindness is universal, especially when people are at their most vulnerable. We're all feeling uncertain during this global pandemic: The Kindness of Strangers is an important reminder that social connections are at the root of our resilience. 
5. Landmarks, by Robert Macfarlane
In Landmarks, Robert MacFarlane's skill as a writer finds its zenith in a study of the language of landscape. In 300 pages of generous, witty prose, he considers how we shape the landscapes around us, and how they shape us in turn. His core theme is how 'Words act as a compass... that 'sing [the land] back into being'. A helpful glossary accompanies each chapter, with definitions of words such as 'beirgh' and 'shinnery' forming a kind of poetry as they're listed. This must-read book made me fall in love with the UK's rural landscapes all over again.
Adventurous Ink has been delivering outdoor inspiration to letterboxes round the country since 2017. Each month, subscribers can expect to receive a monthly surprise from creative adventurers who "really 'get' the great outdoors". For more details, visit www.adventurousink.co.uk/