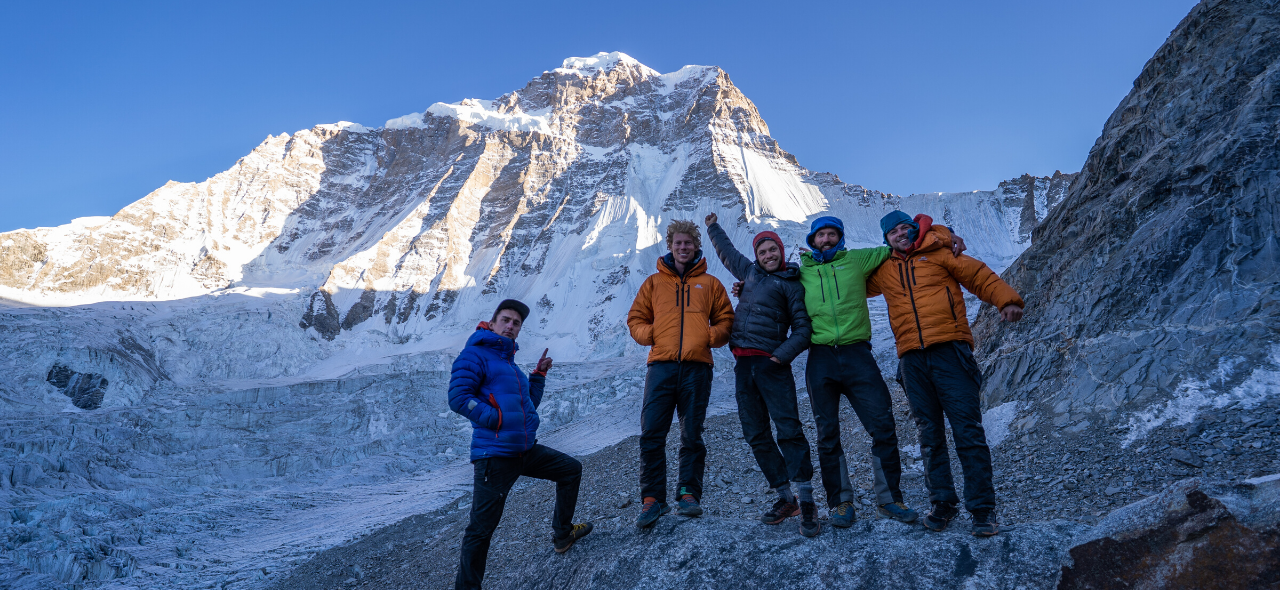 Tom Livingstone talks to Helen Taylor about a first ascent in Pakistan.
Talking on the phone to climber Tom Livingstone about his recent expedition to Pakistan, and more specifically about his climbing partner Ally Swinton's 15-metre fall down a crevasse, feels strange. It's a difficult subject to broach without being able to make eye contact or see a person's reaction. 
Tom, an experienced 29-year-old British climber with four first ascents to his name – in Pakistan, Alaska, and in North Wales – is unflappable. His voice is casual and upbeat. Of course it is, I think to myself, he's a climber. To people in this profession, there's nothing newsworthy or glamorous about risk. It urges you forward, and punishes you if you go too far. 
In September last year, Tom travelled to Pakistan with four other British climbers – Will Sim, Uisdean Hawthorn, John Crook and Ally. Their objective? To summit the 6,877m-high Koyo Zom in Pakistan's Pakhtunkhwa region. Will, Uisdean and John would attempt the twice-climbed north-east ridge due to illness whilst acclimatising. Tom and Ally would tackle the unclimbed north-west face, or the 'The Great Game' as they later named the route, after the nineteenth-century imperial struggles for power between Russia and Great Britain in Central Asia. 
When I ask Tom what he first felt as he arrived at base camp, he tells me he was psyched to get onto the mountain, but knew that he had a lot of acclimatising to do. "There're so many things that can happen between arriving, and actually climbing," Tom says. "It's not like one of these commercial mountains like Everest. You're taking the most pure form of the unknown, and you're stacking all the odds against you." 
The particular area they were headed for in Pakistan had been closed to foreigners for 40 years prior to their arrival due to its proximity to Afghanistan's border. 
Years of preparation go into a single ascent like this. To research the mountain before they arrived, the team read reports and journals by climbers who had previously explored the area, and had gained a good understanding of the local topography. Will had information from the British team who climbed the east face in 1974, suggesting that this would also make for a quick and safe descent from the unclimbed north-west side. Tom is experienced in these kinds of ascents, having made similar 'adventurous alpinism' trips to Canada and Alaska in previous years. 
It was after Tom and Ally had successfully completed their five-day ascent of Koyo Zom that the accident happened. The pair were descending a glacier on the eastern side of the mountain, as planned, when Ally unexpectedly fell into the crevasse which was hidden by a snow bridge. 
Ally sustained injuries to his head and leg. Tom hauled him out within 15 minutes but Ally wasn't able to walk off the mountain, requiring a helicopter rescue. The pair were just a day's walk from basecamp. "It's not over until it's over," Tom adds. 
I ask Tom whether he considers the trip to be a success. "Success and failure don't really lend themselves to climbing, because you can climb up a big mountain, and it might be really hard, and there could be loads of storms, but if you don't get to the top, or you only get within 10cm of the top, then you have to go down." Though you make that descent safely, he says, "success, by conventional definitions, means you get to the top." 
For Tom, the incident is the most serious of his climbing career so far. "This is the first time in the last 11 years of climbing in the mountains that it's happened," he tells me. 
Is there anything Tom would have done differently? He admits that he and Ally weren't wearing helmets when Ally fell. "Be very scared of glaciers," he warns. "Wearing helmets is a good idea." 
Despite the fall, Tom takes a holistic view of the expedition – one that isn't determined by Ally's accident. "It was certainly one of the richest climbing experiences I've had, and certainly one of the luckiest." 
Tom and his team took 40 extra-large Firepot meals with them to Pakistan. Tom's climbing has taken him around the UK and much further afield. You can read more about his top 5 UK climbs here. 
Image credits to Tom Livingstone, Ally Swinton and Uisdean Hawthorn.
Climbers #fuelledbyfirepot
Tag us on Instagram with
#fuelledbyfirepot
or upload your photos here: