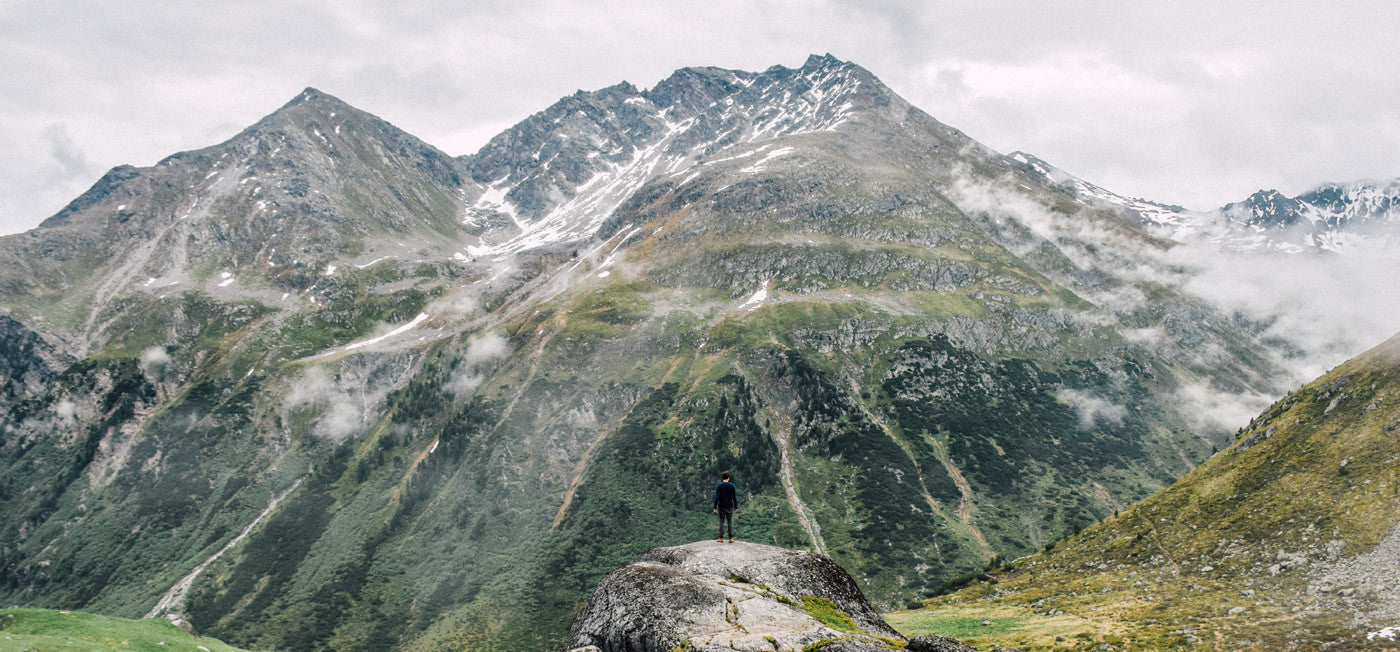 To the Outdoor Show in Germany, via France and Switzerland
The Outdoor Show in Germany is one of the world's largest trade fairs, showcasing outdoor gear of all kinds, from backpacks to climbing equipment to expedition food. It's a chance for us to introduce FIREPOT to Europe, and spread the word that you can eat good, healthy food in the wild. FIREPOT food reached the festival after a 1,250 mile roadtrip from our HQ in Dorset, driven by Expedition Food News editor Olivia Lee and Outdoorfood chef Luke Pollard, who did more than motor flat-out. They made detours through France and Switzerland to find the best of these countries campsites.
Day 1, Friday, 273 miles from Dorset HQ
Destination: Camping De L'Etang, Clarques, France
We head out from Dorset on a rainy Friday morning, our van full of camping gear and enough FIREPOT to feed several thousand. We cross the channel tunnel the same day our French website goes live, reaching Camping De L'Etang by early evening. This is a small campsite at the edge of a lake, surrounded by lavender fields. It's in the heart of the countryside, far from towns and shops, but this keeps the place quiet — though remember to stock up on groceries first.
Day 2, Saturday, 604 miles from Dorset HQ
Destination: Camping Dijon Lac Kir, Dijon, France
We detour to Dijon, France's 'foodie capital', and get lost among the cobbled streets. There are locals drinking coffee in the afternoon sun, and a market full of old books. We buy a jar of the famous mustard and eat it with our FIREPOT Pork and Beans. The campsite isn't far from the city — just a 20-minute walk. It's set by a wide river, with a foot and cycle path running alongside. The showers are hot and powerful — a highlight after a couple of nights camping.
Day 3, Sunday, 806 miles from Dorset HQ
Destination: Camping Rütti, Stechelburg, Switzerland
Flat French fields give way to rugged mountains as we cross into Switzerland at the Cruxe border. We take the main road towards Interlaken, before camping in the Lauterbrunnen Valley where over 70 waterfalls fall from the snow-capped peaks. The campsite is set at the end of the road, at the point where you can't drive any further. There's a field specifically for tents, or you can park up next to your vehicle. A bonus: electricity is free, offering a welcome chance for campers to charge up their gear.
Day 4, Monday, 963 miles from Dorset HQ
Destination: Camping Arosa, Arosa, Switzerland
We head east past Zurich and drive along the border of Lichtenstein at the heart of the Alps. The road winds back and forth, up and up, zig-zagging towards the Alpine village of Arosa, where cow bells ring across the valley. The campsite is a class act — not easy to reach but every bit worth the drive. It's less of a campsite and more of a wild field, tucked under a tall, snowy mountain. There are no staff to greet you, but instead it operates on an honesty system, where you leave your money in an envelope. We picked a space between a stream and a patch of wildflowers.
Day 5, Tuesday, 1,041 miles from Dorset HQ
Destination: Camping Morteratsch, St Moritz, Switzerland
Today we drive to 'the top of the world', so the signs tell us. St Moritz is a glitzy ski city, full of designer shops. We instead go to the Co-op to buy some Parmesan for our FIREPOT Mushroom Risotto, which we eat beside a small stream in the Engadine Valley. Camping Morteratsch is a fifteen-minute drive from the town, further into the mountains. It's huge, with twisting paths in every direction, full of tents and campervans. Yet it's so quiet — with your eyes closed you could imagine being the only guests there. There are hiking trails leading along the river and up into hills.
Day 6, Wednesday, 1,141 miles from Dorset HQ
Destination: Camping Gäsi, Weesen, Switzerland
The dandelion fields of St Moritz change to sharp grey peaks as we head up to Davos — one of the highest towns in The Alps. The landscape is almost lunar, with silver rivers snaking down to frozen lakes, and white snow gripping the blank rock faces. Davos is mostly empty — the visitors prefer the winter ski season. We head onwards to Bad Ragaz to warm up in its natural hot springs. The campsite is beside Walensee lake — an enormous cobalt body of water, extending almost 20 kilometres. The downside is the rulebook: specific check-in and check-out times and an allotted three-minutes of hot water.
Day 7, Thursday, 1,177 miles from Dorset HQ
Destination: Camping Fischers Fritz, Zurich, Switzerland
Today we don't drive far — just the 30-something miles to Zurich. It's the largest city in Switzerland, but it doesn't take us long to walk the old streets. We camp by Zurichsee lake, about three miles from the city centre — walkable, but there's also a train which takes you to Zurich's main station. The site is busy with families who have come to swim in the clear lake and make use of the on-site restaurant. This site is a great option for a cheap night in one of the world's most expensive cities.
Day 8, Friday — 1,259 miles from Dorset HQ
Destination: The Outdoor Show, Friedrichshafen, Germany
We are here, pitched next to some Cornishmen selling the hottest product after FIREPOT: Anevay wood-burning camping stoves. Check them out here: www.anevaystoves.com