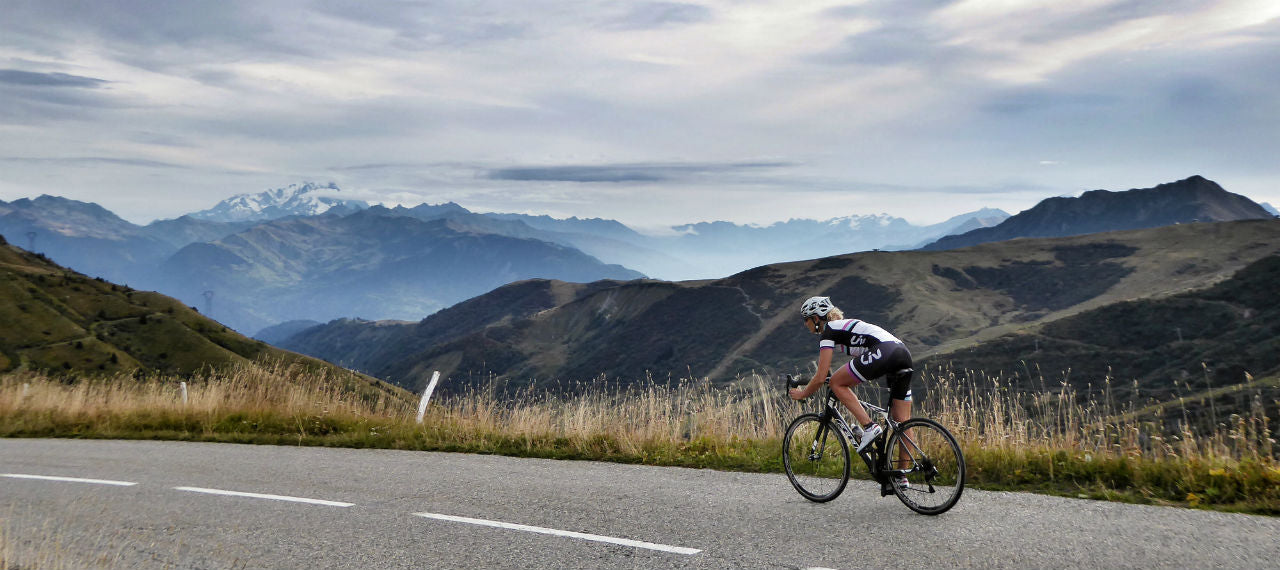 Katie L'Herpiniere didn't plan on becoming an ultra-endurance athlete. She grew up in Devon, working as a model through her teens and twenties for brands like Alexander McQueen, with the occasional role as a body double for Cameron Diaz. When a man she just met (later to become her husband) asked her to join him on an expedition to the North Pole, she immediately refused.
Over the next few months though, she found herself contemplating the idea of a grand adventure. "I couldn't stop thinking about just getting away," she says. So when Tarka returned from the North Pole and asked her to walk the Great Wall of China with him, she didn't take much persuading. Since that six-month hiking trip, Katie has gone on to achieve a number of impressive feats, including crossing the Southern Patagonian Ice Cap, cycling across Africa, and most recently, competing in the inaugural Silk Road Mountain Race, #fuelledbyfirepot. Here, we catch up with her between trips.
What's the hardest you've ever had to work?
Riding the 1911 Tour de France route in 23 days. I didn't know what hard work meant until that trip. I was getting about six hours sleep every 72 hours, pushing  5,439kms through saddle sores and numb toes. After two weeks, the tiredness made me hysterical — afraid of my bike, terrified I'd ride into oncoming traffic, seeing treble of everything. I'd play games to try and stay awake, but it was almost impossible to concentrate: I couldn't even remember the alphabet. I've never wanted to quit something so much in my whole life — the temptation to just curl up and sleep on the pavement was agonising. Still, I pushed through, but it taught me that I'd pick pain over sleep deprivation any day.
If you could change one thing about the world, what would it be?
I would turn all mosquitos into marzipan. Hate mosquitoes, love marzipan.
What's your greatest accomplishment?
Walking the length of the Great Wall of China. It certainly wasn't the hardest challenge I've done, but it was probably my bravest as it meant leaving everything I knew behind. For 167 days, Tarka and I battled sandstorms, blizzards, frostbite,  exhaustion and dehydration as we walked 4,500kms (four times the length of the UK). I cried so much, but it changed my life. I learnt that ordinary people can achieve extraordinary things if they are just bold enough to begin.
Do you believe in luck?
We go through phases: sometimes things go right for us, sometimes they don't. I'm not sure if that's luck or just the natural order of life, but either way, I think people can get out of the 'things going wrong' phase much faster with a positive attitude and some hard work. So I'm going to say life is 95% perseverance and 5% luck.
You can make one wish - what's it going to be?
Health and happiness for my family.
Describe your happy place
The mountains of Kyrgyzstan. I've just returned from the inaugural Silk Road Mountain Race — a self-supported off-road bike race along abandoned soviet roads. Only 29 of nearly 100 people finished, largely thanks to the 4,000m peaks, 40-degree heat and freezing snowstorms. Despite the truly brutal challenge, I fell in love with the vastness and remoteness, hundreds of miles from the nearest town. The landscape varied so much: barren cold deserts one day, lush alpine forests the next. And the nomadic Kyrgyz people were so kind. That sums up my happy place.
Plan it or wing it?
Plan it, always. I'm the queen of organisation — lists and highlighter pens are my dear friends. I almost love preparing for expeditions as much as the trips themselves, which is how I've made logistical expedition planning one of the ways I earn a living. Surprisingly though, I'm not strict when it comes to training. I find structured training plans take the love out of the sport.
What does generosity mean to you?
When people show kindness and want for nothing in return. I've found during my travels that it's often the people who have the least that are the most generous.
Has your life ever flashed before your eyes?
Too many times. Possibly the worst was on the Southern Patagonian Ice Cap in 2009. Before I left for the trip, I'd read a quote from one of the few people who had been before me, describing it as a place "where the wind drops you to your knees and the snow buries you alive." Unfortunately I discovered this was not an exaggeration. The first disaster came when my cooker gave me carbon monoxide poisoning inside our tent. I had a full seizure and stopped breathing. I only survived because Tarka was able to resuscitate me.
Later, that tent was destroyed in a snowstorm, which meant we were in the middle of nowhere gradually getting buried alive by snow. I agonised over whether to call my parents to say goodbye. Somehow we made it until first light. We realised that if we could just push through, we might still make it. As we battled the snow and wind, we both kept exchanging looks, wondering if it was the end. After walking for three days, exhausted and tentless, we finally found shelter.
If we could dehydrate any meal, what would you want in your next Firepot bag?
A rare steak with a dollop of melting garlic butter, triple cooked chips with some homemade mayo, and a side of crispy onion rings. That would be perfect. And I suppose we should throw in a green side salad, but only if it has a good French vinaigrette.
Family, fame or fortune? 
Family, 100%: they are my rocks.
Mental or physical: which is tougher?
Mental, by a long way. But it's also the most important to master. If you're mentally tough, you can override physical pain in the body, but physical strength can't override a weak mind. Some tricks I've found that help:
Distraction or dissociation: Chatting to a fellow cyclist, listening to music or getting lost in my thoughts. Anything that keeps me away from the creeping negativity and overbearing discomfort.

Mindfulness techniques. I focus on a single cue, like my breathing or repetitive counting, to stay present in the moment.

If the above fail, I just give myself a good talking to.

How bad do you want this?

I ask. By reminding myself I'm there by choice and that I'm privileged to be in that situation, I can usually find acceptance in the pain.  
Is it a man's world?
Only if you let it be.
Katie bought 16 extra-large, calorie-packed Firepot meals for the two-week Silk Road Mountain Race.
Cycling #fuelledbyfirepot
Tag us on Instagram with
#fuelledbyfirepot
or upload your photos here: