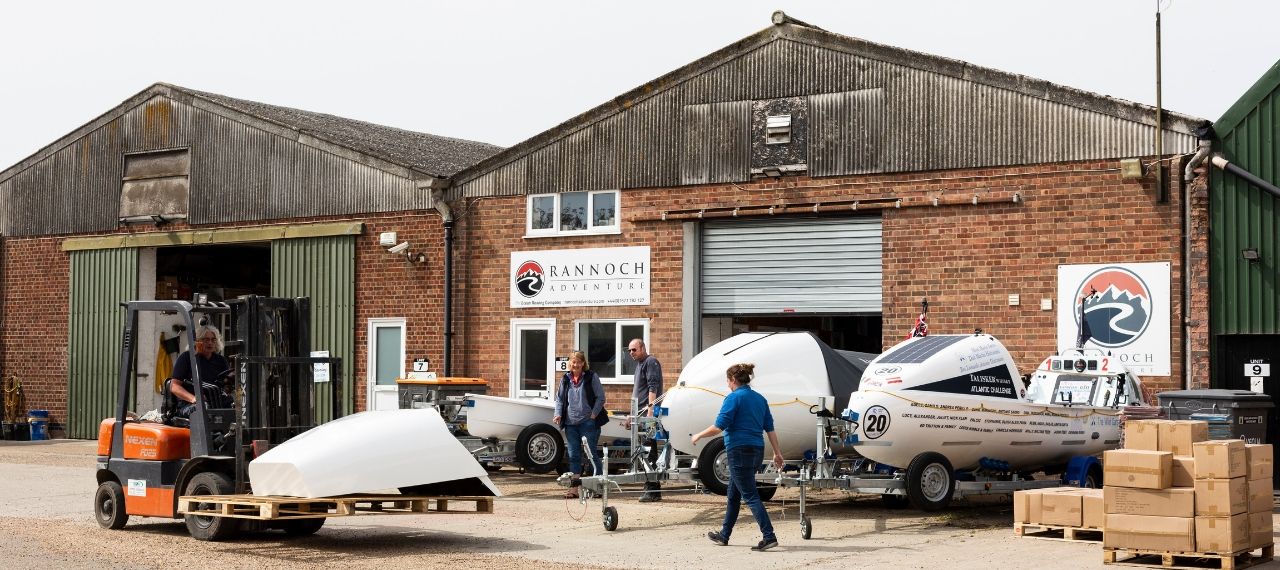 Rannoch Adventure: Ocean Rowing Pioneers
"Without blowing our own trumpets, ocean rowing wouldn't be where it is today without Rannoch and Charlie's mindset" says Angus Collins, project manager at ocean rowing boat building company, Rannoch Adventures. He also tells Firepot, with some jest, that he has more miles under his belt than his boss and uncle Charlie Pitcher, Rannoch's founder and director. 

At 29, Angus has covered more nautical miles than most of us will in a lifetime; he's rowed over 10,000 miles across three oceans, as well as lapping Great Britain. His first race – where he crossed the Indian Ocean with three other men in world record time aged just 23 – was a baptism of fire. Angus found himself stuck in a storm four days from land, and instead of finishing the race in Mauritius as planned, he was forced to extend the row by 28 days to finish in Seychelles. "That was pretty horrible" he says. His family and girlfriend at the time were waiting expectantly in Mauritius. "That really pissed them off. I got dumped pretty quickly."
This tale of bitter-sweet rivalry between Charlie and Angus is in Rannoch's DNA. "As a family, we're nutters" says Charlie. Angus's mum (Charlie's sister) was a scuba diving instructor who left Britain on her gap year and returned 15 years later after travelling the world with Angus in tow. Angus's grandfather (Charlie's father) was a world champion sailor who sailed a Flying Dutchman racing dinghy, and Charlie is a champion sailor, too. "The way I grew up was basically to spend as much time outside as possible. And to try and win everything. That definitely comes from Charlie" Angus muses.
It's no surprise then that with bullish confidence, and after single-handedly beating all other solo and pairs boats to win the Woodvale Challenge Atlantic Rowing Race – now the Talisker Whisky Atlantic Challenge – in 2009, Charlie set up Rannoch Adventure. "Everyone thought he was nuts, I thought he was nuts" says Angus. "No one thought that a business could be formed out of ocean rowing. I hadn't even heard of the sport – I had just about heard of Cracknell and Fogle when they did the row."
That was 10 years ago. Now, 36 boats and 102 rowers are set to compete in this year's Talisker Whisky Atlantic Challenge in December, and Charlie says that at least 25 of the boats entered are Rannoch-built. Angus says every race entered by a Rannoch boat has been won by a Rannoch boat, meaning Rannoch is yet to be beaten by another boat builder.
Rannoch's results speak for themselves, but Rannoch's success isn't just down to the way its boats are designed and built. Bespoke training provided by Charlie and Angus plays a huge part in a team's success. "Our favourite customers are the customers who have never rowed before" says Angus. And, all but one team that Rannoch has sent across the Atlantic has completed the crossing.
So, with Rannoch providing its customers a 'one-stop shop' for ocean rowing – expert coaching from Angus and Charlie, and tried and tested boats designed by people who have actually rowed oceans – the ocean rowing world is opening up to more and more people.
"I'd say 80 per cent of our customers have never sailed or rowed before" says Angus. Just last week he had a meeting with a McDonalds lorry driver wanting to do a solo row, and in May, a 67-year-old Russian priest completed a solo row across the Southern Pacific Ocean in his Rannoch-built boat, becoming the fastest man ever to do so. "Everyday we get a new phone call from someone with a whacky new idea" he adds. "They could be an experienced ultra-endurance athlete, or they could just be a very normal person."
On our tour of the Burnham-on-Crouch Rannoch workshop, we meet electrical engineer Gary Scroggs, whose head is deep inside a boat's hatch as he wires it up. "I think the fact that there is so much electronics on them [the boats] now, means the average person can go rowing, whereas before people had to learn to navigate", he says. "Now, if they get into trouble they can just push a button and somebody in the world somewhere knows they're in trouble."
Production manager Mike Wood, who's tinkering with small components at a workbench, tells me he's working on bringing the cost of the boats down, and on making sure that every boat weighs exactly the same, so that it's a "human versus human race, as opposed to who has the deepest wallet."
And, Rannoch's office all-rounder and sailing doyenne Lizzie Brown – whose daughter is a record-holding Atlantic rower – tells me she's spent 17 years as a volunteer RNLI helmsman in Burnham. With her years of experience on the water she plays a key role in the evolution of safety rules and regulations for races like the Talisker, making sure that everyone who competes does so safely.
As well as advances in technology and safety, Angus says that media attention, the growing realisation that humans are spending far too much time glued to computer screens, and the rise of remote, flexible work, is fuelling ocean rowing's surging popularity.
To end our interview, I ask Angus if anyone can row an ocean, and his answer is a resounding "yes – with commitment, anyone can row an ocean". What then, I ask him, is the first thing I should if I'm thinking of rowing an ocean? "Ring Charlie and I" he says. "It generally is the best thing to do."