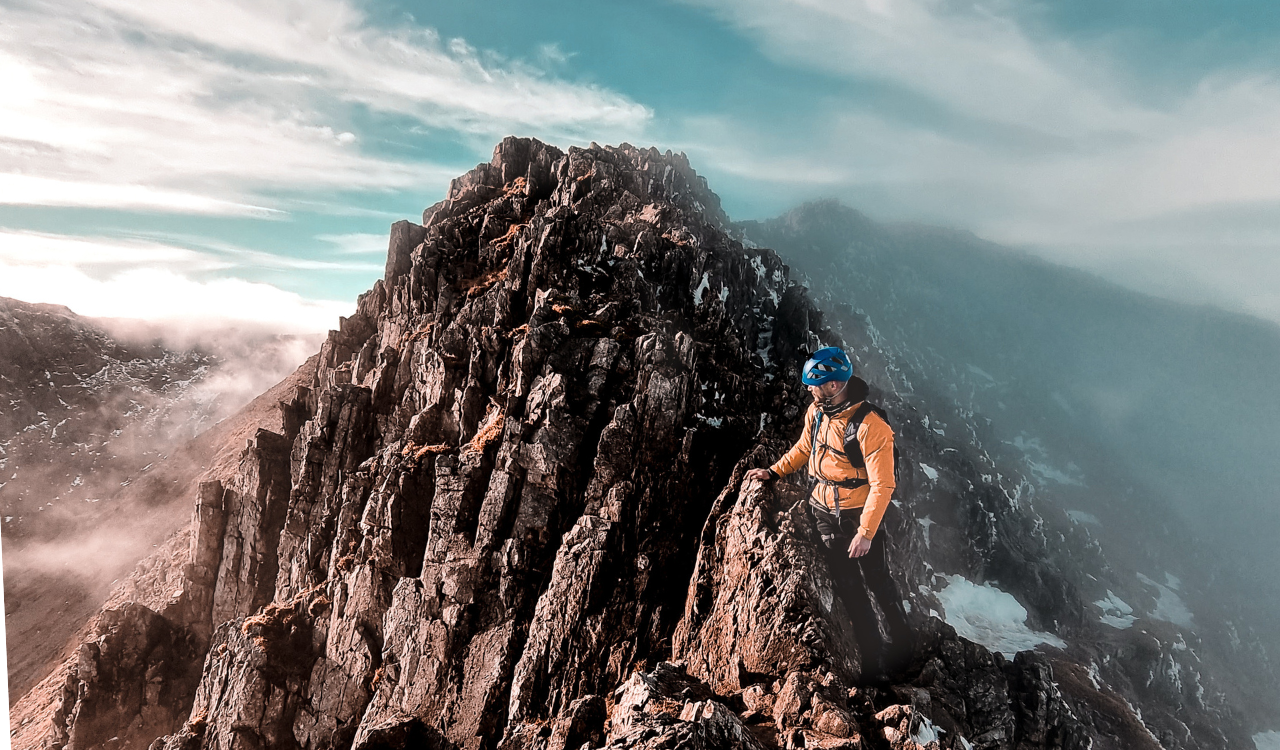 As Dorset locals, the Firepot team are most familiar with the rolling fields of the southwest, and the honeycomb cliffs along the Jurassic Coast. But head further north and the landscape hardens — hilltops whipped into jagged peaks and valleys scored with mirrored lochs. The sky seems bigger, the heather springier, and there's a sense of the wild in every step.
Here, we ask five Firepot Friends to tell us about their favourite UK hilltop hike — from the Lake District to the Hebrides.
#1: Loch Coruisk to Sgùrr na Strì, Skye
Length: 24.1km
Elevation: 494m
Difficulty: Moderate
Whilst Sgùrr na Strì — the 'peak of strife' — is a straightforward 494m ascent, the route to reach it from Loch Coruisk is rather more complex. The peak is only accessible via boat from the village of Elgol, on a tough coastal hike from Elgol where the route crosses the notorious Bad Step — a precipitous rock face along the cliffs of Loch Coruisk —  or via a 15-mile round trip hike from Sligachan. The latter is the longer option but the path is gentler, meandering through the valley before beginning the climb up to Sgùrr na Strì. Emerging at the top of the ridgeline between Sgùrr Hain and Meall Dearg, you start to get spectacular glimpses of Loch Coruisk. From there, you pick your own route across the rocks up to the top of Sgùrr na Strì. This is a walk best suited to good weather, which reveals panoramic views over the Cuillin Ridge.
Suggested by London-based Suze Haworth (@suzehaworth).
Suze discovered a passion for hiking fifteen years ago, and is a moderator on the Instagram hiking account @hike_britain.
#2: Circular route around Bowfell and Esk Pike, Lake District  
Length: 15.9km
Elevation: 902m
Difficulty: Moderate-hard (rough terrain in parts but not too technical)
Bowfell is one of the Lake District's jewels: a 902-metre mountain with far-reaching views over the Scafell and Langdale ranges. This route begins in Great Langdale, and winds to the top of Bowfell, crossing a number of fells (Esk Pike, Allen Crags, and Rossett Pike), with plenty of mixed terrain to keep things interesting. The approach to Bowfell's summit is a steep ascent, and requires some scrambling across boulder fields and steep rocky trails. On a clear day, you'll be rewarded by spectacular views over Scafell Pike and neighbouring Great Gable, but be aware this is popular territory so can get busy. From Scafell, the way back down to Angle Tarn and Rossett Pike follows a less obvious route and you need to be sure of your footing, particularly if the conditions are wet. This is not a hike for the inexperienced, but there's a lot to reward you: the landmark Great Slab for one, and panoramic views of the Three Tarns — small mountain lakes — speckled below. If you choose to camp overnight, Blea Tarn makes for an ideal stopping point.
 
Suggested by Yorkshire-based social media manager, Leah De La Hunty (@delahuntyleah). 
Leah hiked this route with Common Ground, a community-led initiative which aims to bring like-minded individuals together through shared experiences of the outdoors. For future community walk updates, follow @cmn.ground.

#3 Tryfan, Snowdonia
Length: 4.2km
Elevation: 918m
Difficulty: Hard (rough terrain with tricky route finding)
Mount Tryfan, located in the Ogwen valley of Snowdonia National Park, makes for an exciting climb if you don't mind scrambling on all fours at times. Tryfan comes from the Welsh, 'tri-faen' meaning 'three rocks', which give the mountain its distinctive shark fin shape. It's one of the highest mountains in Wales, standing at nearly 918m, and is one of the UK's most popular peaks to climb. Tryfan has two well-known — and photogenic —  monoliths: 'Adam and Eve' and 'The Cannon'. There are many routes up Tryfan, but the most popular is the Circular rote. The best place to begin the hike is at the base of Tryfan, from the main road, with a circular route coming down past Glyder Fach, passing through the lakes - Llyn Bochlwyd and LLyd Idwal. This route is just as good in reverse. This is a route for experienced hikers only, including a Grade 1 Scramble.
Suggested by Welsh climber and photographer Tom Goodwin (@tom.nw.photo_). 
Tom is a photographer and climbing wall instructor based in North Wales.
#4 Hawes End and Dale Head Circular, Lake District
Length: 17.2km
Elevation: 922m
Difficulty: Hard
This circular route begins and ends in the hamlet of Little Town, nestled at the foot of the Catbells in the Lake District's Newlands valley. The trail heads northwards, ascending past Skelgill Bank, with striking views over the valley below. Following the path onwards to Maiden Moor and High Spy, the most challenging section is the 753-metre Dale Head; a short but steep climb through fairly exposed, rugged terrain. The summit makes a great lunch stop before continuing on to Hindscarth and back to Little Town. This hike showcases some of the finest scenery in the Lake District, emerging above the clouds with extraordinary views over far-off horizons and — if the weather's good — deep-cut valleys.
Suggested by Lancashire-based software developer Harry Bennett (@harry.in.the.hills). 
Harry spends most of his spare time in the Lake District, hiking the Wainwrights.
#5 The Ring of Steall, Mamores, Glen Nevis
Distance:  16km
Elevation: 1676m
Difficulty: Very hard
The Ring of Steall traverses four Munros with a scramble along narrow, rocky arêtes. The route begins where the road peters out in Glen Nevis, ascending An Gearanach, Stob Choire a Chàirn, Am Bodach and then following The Devil's Ridge to Sgùrr a'Mhaim. This hike is long but rewarding, with views over distant Ben Nevis. If you take the route anti-clockwise instead, you can finish with a swim in Steall Falls — although you should expect the chilly water to steal your breath.
Suggested by Isabelle Law from the Isle of Skye (@isabellelawphotography) 
Isabelle is currently on a mission to climb every Munro, or Scottish mountain; she currently has 11 out of 282 left to scale. 
Image credits: As above, with further contributions from Travis Blackie