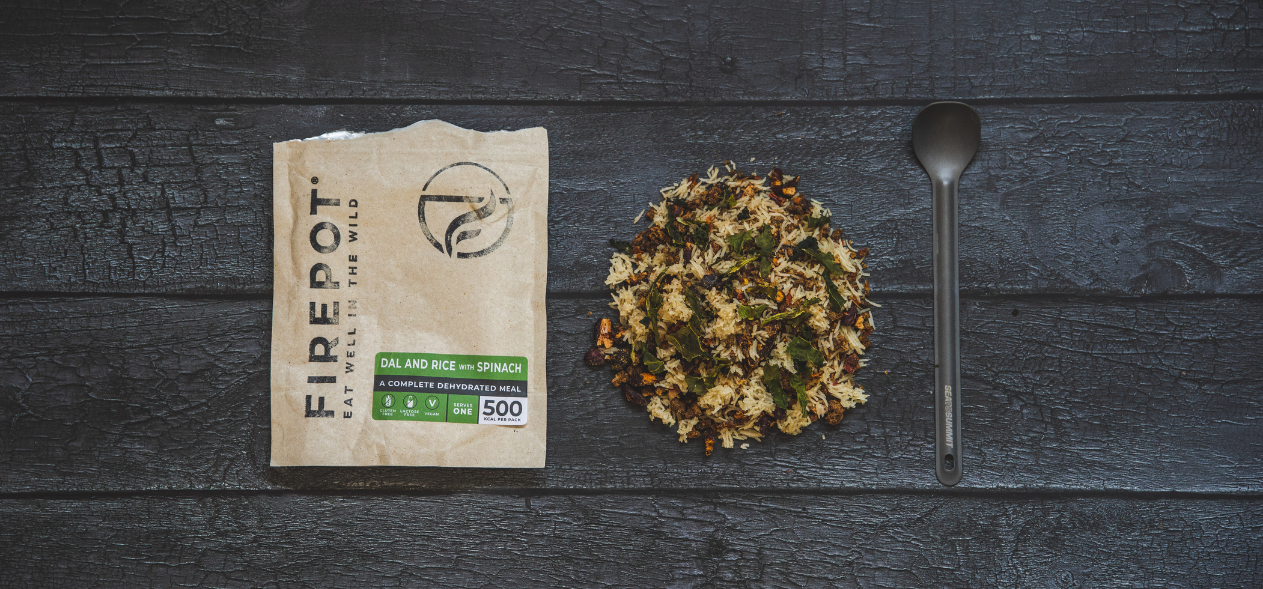 COP26 — the 2021 United Nations Climate Change Conference — is about to begin. Its goal is to persuade governments around the world to make bold commitments towards fighting the climate crisis. As world leaders thrash out the issue of carbon emissions on a dizzying scale, it's easy to feel powerless as an individual. But if the past year has shown us anything, it is how powerful a message becomes when we all — consumers, businesses and organisations alike — come together. To achieve net zero, every individual will need to change their habits and practices.
When we started our business in 2017, we had a team of four working in an old barn in West Dorset. Our team has now doubled, but we have never felt too small to make a difference. At Firepot, we know that the choices we make have wide repercussions. In choosing our ingredients, packaging and drying methods sustainably, we create low-impact meals that are wholesome in the truest sense, enabling the outdoor community to make environmentally friendly choices too.
Recently, there's been a lot of green-washing as companies scramble to appeal to an eco-conscious consumer. Conversations and corporate transparency are key to finding real solutions to the climate crisis. Here are ten things we're doing at Firepot to help reduce our environmental impact. 
1. Shop local
A massive amount of energy is wasted in food miles, or the distance each ingredient we eat travels to reach our plate. Ten years ago, a US study estimated that for every calorie of energy we got out of the food chain, we used ten calories of fossil fuel. When fresh ingredients are flown in, the environmental cost is significantly higher, emitting 30 times more CO2 than other forms of transport. In rural West Dorset, we have producers and suppliers on our doorstep. By opting for locally grown produce, not only does our food taste better, but we cut the food miles in our supply chain. Our vegetables are sourced from a greengrocer fewer than five miles from our kitchen, and our beef and pork come from local farms. 
2. Minimise food waste
A 2014 study by the International Panel on Climate Change (2014) found that food waste contributes almost the same amount of emissions as global road transport does. In fact, if the 1.3 billion tonnes of annual food waste was represented as its own country, the United Nations suggests that it would be the third largest greenhouse gas emitter, behind China and the US.
In the Firepot kitchen we squeeze our own lemons, chop our onions by hand, and order the quantities we need for each recipe to the nearest gram, meaning nothing is wasted. What's more, our food has a long shelf-life too, so leftovers from an expedition can easily be stored until the next adventure. 
3. Compost
The way we dispose of food also makes a difference. When sent to landfill, organic matter releases methane — a more harmful greenhouse gas than carbon dioxide. When food leftovers are composted properly, the levels of gas are reduced and the carbon is retained in the resulting matter, rather than released into the atmosphere. Project Drawdown, which researches potential solutions to climate change, suggests that emissions could be reduced by 2.1 billion tonnes by 2050 if composting practices increased globally. Compost is also a good habitat for hedgehogs, grass snakes, beetles and birds, all species that are suffering with the UK's decline in biodiversity.   
In lockdown last year, we officially registered our compost heap (below). Mixed in with a little mulch, you can see exactly what offcuts we have leftover from 25,000 meals (in March 2020, on the left) vs 210,000 meals (October 2021, on the right). 

4. Playing a role in the supply chain
When Firepot first started, there were some ingredients we could only source in small bags or bottles, which created unnecessary waste. After several conversations with our suppliers, a number now provide our ingredients in large paper sacks; and our orzo pasta, once only available in 500g bags, can now be bought in 5kg units. Having conversations about how to be eco-conscious at every level of the supply chain has helped reduce our packaging waste by 90% in some cases.
5. Compostable packaging
In 2018, we launched the outdoor food industry's first biodegradable pouch. When researching which materials to use, we found a lot of confusing terminology clouding the makeup of 'eco-friendly' packaging. From there, we moved to a pouch which was 100% compostable instead, and breaks down within a year, only leaving behind biological residue. At the moment, fully compostable packaging can't handle the hot water used to rehydrate our meals, so they have to be cooked in a pan. While this can be off-putting for particularly weight-sensitive expeditioners, we try to encourage those on the fence to buy meals in our compostable packaging, but to take one standard pouch too, which can be washed and reused as a container for each meal. It's not perfect, but it's a step in the right direction.
6. Custom packing
Since Firepot's inception, we have worked with expedition and race organisers to minimise packaging when our food is bought in bulk. In 2018, when Leo Houlding, Mark Seddon and Jean Burgun climbed Antarctica's famous Spectre rock spire, we packed three portions into each bag. This meant their pack was 10kg lighter, and saved 10kg of packaging from ending up in landfill. For the Great Norse Run — a 209-mile, ten-day run across Iceland's glaciers and lava fields — we have packed as many as thirty meals into one bag, allowing us to feed many more people in one go, without the extra waste. A handful of other organisations and individuals that we work with are starting to follow suit. 
7. Unique, low-impact technology
At Firepot, we have developed our own dehydration technology, which is much more energy-efficient than the more common process of freeze-drying. In simple terms, our system dehydrates by blowing warm air over our hand-cooked meals. It is a gentler process that allows us to keep the natural texture of our food. What's more, designing and building our own dryers gives us the ability to control how much energy we use at any one time. ​​Using a custom-built heat management system, we can radically reduce the electrical load required to dry a Firepot meal. As we continue to develop our dehydration technology, we are better able to reduce our energy intake.
8. No to palm oil
Palm oil is the world's most widely used vegetable oil. It is found in 50% of packaged products in our supermarket aisles, from shampoo to chocolate bars. Despite efforts to stimulate sustainable palm oil production, the industry is still driving the destruction of rainforests in much of the southern hemisphere. With viable alternatives available, including rapeseed and olive oil, it is our principle to never use palm oil in any of our meals.
9. Opting for meat alternatives
Cutting meat out — even for the odd meal or two — is a great way to reduce individual carbon output. In an analysis of one team participating in the 2020 Talisker Whisky Atlantic Challenge, data analytics firm Sustainit found that Firepot's vegan meals emitted over four times less carbon than meals containing meat. If all the boats racing in the race that year had opted for plant-based meals, over 19 tonnes of CO2 emissions would have been cut across the fleet — equivalent to 17 return flights from the UK to the Caribbean.

More than one third of our customer base now opts for vegan-only meals. We use sustainable soya, offering an ethical protein base for plant-based adventurers. By the end of 2021, we will have introduced four new vegan recipes to our menu, taking us to an industry-leading total of eleven vegan meals.
10. Supporting green expeditions
We actively choose to support groups or individuals campaigning to raise awareness of the climate crisis, or performing critical scientific research in this area. Pedal4Parks — a world first cycle across land and sea from the Orkney Isles down to the Isles of Scilly, which took place this summer — is one such example. Primarily an expedition to raise awareness of how human interference is impacting the UK's parks, green spaces and marine environments, the ultimate aim of the expedition was to raise investigation into scalable solutions to protect, regenerate and restore these areas. The outdoor community has long been aware of the importance and benefits of a healthy natural environment, but we've been heartened to see a huge increase in the number of climate-focused adventures over the last couple of years.
Professional images by Ian Finch, Anna Blackwell, Martin Hartley, Clement Hodgkinson, and Amber Munro-Fellowes