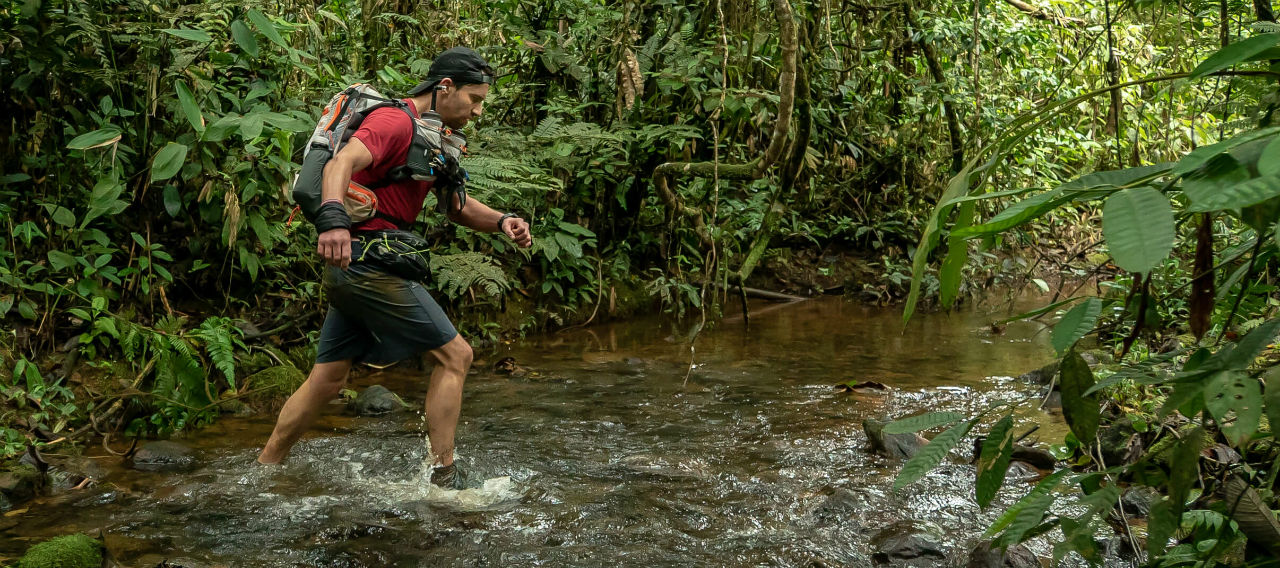 Into the Deep: Jungle Ultras
Peter Liggins, owner of London's Box Clever Sports gym, has been a competitive athlete for 23 years. Boxing was always his main focus, but he decided to turn to ultra running as a way to experience adrenaline and competition, "without being punched in the face". After tackling some tough ultra races across the UK, he signed up for his longest, most gruelling challenge to date. Here, he recounts his experience of running in the 230km Jungle Ultra, deep in the Amazon rainforest. As told to Olivia Lee.
The airport is the first place you really feel like you're part of the race. You can immediately spot other competitors from the bags they're carrying; racing rucksacks, packed tight — no one checks them in for fear of leaving their race gear to the hands of the airlines. We were in Cusco, in the Peruvian Andes — a red-bricked city perched at 12,000ft. I'd come two days early to settle in before the race, which was good since the altitude hit me for six. I tried walking down a road and almost stumbled into an oncoming car, the lack of air making me feel like I was drunk.
After a night in the city, we all met at 5am, bundling bleary-eyed into the vans for the six-hour drive to the camp. It's the first time the racers can really check out their competition. A lot of people talk themselves up, but it's usually those who stay quiet that are the ones to watch.
The camp is known as the cloud forest, and I soon realised why — a vast, dense rainforest extended in every direction below us. We were perched at 9,000ft, the wisps of mist clinging to the dark green trees. I set about putting up my hammock, only to realise I didn't know how. I'd had every intention of practicing before heading to Peru, but things got in the way, and since our bus was the last to arrive, I'd also been left with one of the worst spots. Rain started to fall in fat droplets as I tried again and again to fix it between the two wooden posts. In the end I made do with my poor handiwork, which meant a restless night's sleep trying to stay dry in the down poor. I had an emergency blanket for warmth, but the fact that I sounded like a human-sized bag of crisps didn't help me sleep, nor my neighbours.
Most of the racers were up at first light. The camp felt tense and quiet, as if people were too nervous to speak loudly. The ground had nearly flooded from the rain, which made final checks to my bag difficult. I looked around at the racers packing their rain-flies neatly away. In my case, the rain had made it past that protective shield and into the hammock itself, which would explain my wet clothes this morning.
I was nervous, but ready. I'd told myself not to get caught up in the race, although I did have a game plan - go hard for the first two days to break away, steady for three and four, then push big on the last day. We made our way to the start line, which was marked by four banners on a dirt track. Small friendship groups had started to form, with jokes banded around to try and lighten the mood. I put myself near the front, in case there was any nudging. People were respectful though — after all, a few metres ahead doesn't really mean much in a 230km race.  
It was the first time I'd run at altitude, so even jogging pace left my heart thumping and my lungs gasping for air. The dirt road took a sharp turn into the rainforest, with sheer drops on one side. Slip, and there would be only one outcome. We pressed on, descending over river crossings and up slippery mud banks and winding hills. Every stone threatened to turn an ankle, so my eyes were fixated on the ground at all times. Thirty-four kilometres on, and we reached the end of the first day.
The timings of each racer is clocked so that their overall position can be revealed after the five days. On day one, I found myself in first place. That meant I had the pick of the wooden poles to hang up my hammock, but it also meant I had no one to copy. The camp was very basic — a couple of scrawny dogs slept by a tree, and chickens pecked the ground. Toilets were nothing more than a hole in the floor. When the rain started again, we huddled under the canopy of a wooden barn.
I set off well on day two, finding myself in first place again after 20 kilometres. I turned a corner and literally stopped in my tracks. What was ahead of me was a terrain I'd never experienced before — musky dense jungle, trees covered in thorns, bullet ants, snakes, monkeys, streams twisting across the path and steep inclines covered in thick, slippery, energy-sapping mud. Not to mention the eerie nature of the jungle itself — dark, hot and mysterious. I'm not afraid to say I bricked it, feeling very much out of my depth. Still, I finished the day in third place, covered in mud, feet soaked and very tired.
As time went on, friendships grew and morale increased. There was an unspoken appreciation between everyone. We were all there, pushing our bodies to the limit, through tortuous terrain that would always be the ultimate winner. It brought a unique connection between us as runners. I went to sleep that night feeling optimistic.
Unfortunately, I picked up tendonitis in my left shin on day three. I'd pushed myself very hard through the increasingly tough terrain, sweltering in heat and humidity I'd never experienced before. The pain started out as a niggle, but by the end of the fourth day it was a real problem. After a very muddy, incredibly frustrating mountain climb that almost broke me, I crossed into the last camp and fell to the floor. I was utterly exhausted, running low on food, unable to get much down, hobbling and feeling sick. I adopted the foetal position and closed my eyes, lying on a plastic sheet laid out for the muddy shoes.
As I was lying there feeling very sorry for myself, at least 10 different racers asked if I was okay. I nodded to each, wishing I was in my hammock where people might leave me alone. But later, when I'd mustered the strength to try and eat, another runner who'd seen I was struggling gave me a ration of his hot chocolate. It's amazing what a bit of kindness and a sweet treat can do to your mood.  
On the final day of the race, I piled on the pressure. With a solid run, I was confident I could battle for second place, and possibly cut time off the leader. I could nearly picture the podium position. Ten kilometres in, though, my leg gave up. I yielded to the pain, pulled out my walking poles and tried to march on. At this point I was in solid second, but as my pace slowed to keep time with the throb in my leg, runners continued to pass me. They all checked I was OK, and one even offered to march with me. I took a painkiller and hobbled on.
Seventy-five kilometres later, I emerged from the jungle. Waiting at the end were the two athletes who I'd been jostling with for first and second place. They'd turned down the option of a hot shower and change of clothes to wait for me to cross the finish line. I nearly cried. The level of camaraderie in this race is unlike any I've ever experienced in my 23 years as a competitive athlete. I pushed on through those final steps and collapsed on the other side of the line.
It turns out I'd only missed third place by a minute, landing me in fourth. It wasn't a podium position, but it would do. When I looked at my competitors with missing toenails, bone fractures, and blisters that had rubbed almost to the bone, I felt very lucky in comparison. I always tell myself never again, this is definitely the last time, only to find that as the days and weeks go by, the punishment and pain is forgotten and another race is entered. The truth is, I don't even like running. In fact, I f*cking hate it. Ultra runners are definitely a crazy breed.
Top tips for new runners
Great bonds are made during races, especially multi-stage races like the Jungle Ultra, so don't worry about entering solo.

Be ready for the demons. They will probably raise their head in training, so embrace them when they do because they will be back with a vengeance during the race.

Remember that every person is going through exactly the same thoughts, niggles and doubts as you. It's how you deal with them that makes the difference.

You will constantly ask yourself,

why am I doing this?

The truth is, until you get to the finish line, you'll never really know. 
Pete took extra-large, custom-packed FIREPOT meals with him to Peru, designed to minimise space and weight, but maximise flavour and nutrition. Get in touch if you're interested in our bespoke meal selection.