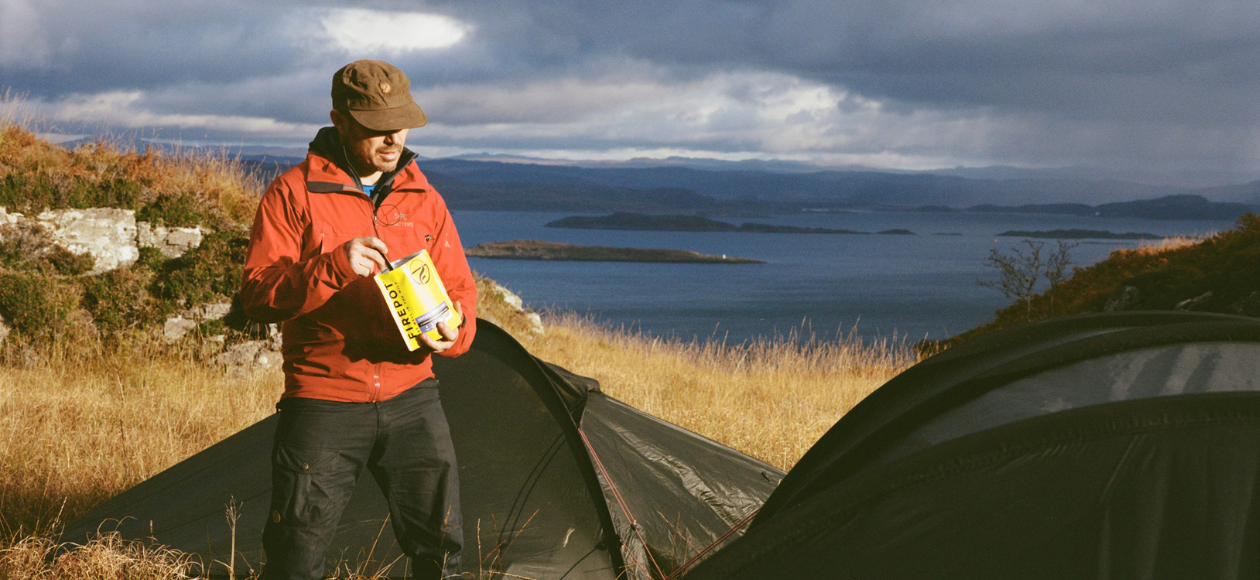 The Year of Silver Linings
For those of us in the outdoor industry, stay at home orders feel particularly challenging. But if there's one thing 2020 has taught us, it's the meaning of resilience. 
In the spring, as global Covid-19 restrictions took hold, we watched as numerous expeditions were brought to an abrupt end: Frenchmen Loury Lagardère and Matthieu Belanger had to be evacuated from the depths of the Canadian Arctic on a mission to reach Denali — one of the world's seven highest summits — on foot. Italian explorer Francesco Magistrali was one month into walking the breadth of South America from the Pacific to the Atlantic Ocean, when he had to put the five-month research expedition on hold. Explorers George Bullard, Alex Hibbert and James Wheeldon, due to collect vital samples and scientific data from the Arctic sea ice through the polar winter, had their trip scuppered after six years of planning. 
Closer to home, we received a huge spike in orders — people wanting to stockpile our food for emergency rations in lockdown. And then as quickly as we rose, the world fell silent.
Faced with months indoors, we began to look outwards with renewed vigour. We explored the limits of our back gardens and the neighbouring areas. The Scottish highlands allowed us Brits to rediscover the thrill of local expeditions. For every trip cancelled or delayed, there was a spontaneous initiative to take its place. 
As the skies cleared of airplane contrails, we began to re-learn the beauty of our natural environment. Air pollution plummeted, and the outdoor challenges people set themselves became geared towards conserving the environment. We supported Ana Zirner and Christian Bock as they examined the effect of retreating glaciers on local communities in the Alps, and Laura Welsh as she swam through Britain's most remote water sources to check for microplastics. 
And we mustn't forget those trips that did still go ahead: James Aiken sailed the Atlantic solo in his home-built boat, The Oaken Yarn; Oli France successfully crossed a wintry Lake Baikal on foot; and five British women became the first all-female team to traverse the Finnmark Plateau, Norway's largest at over 8,500 square miles. The inaugural Gaucho Derby - the latest race from The Adventurists - took place in Patagonia and, despite all the challenges they faced, the Talisker Whisky Atlantic Challenge still went ahead this month, as did the prestigious Vendée Globe. One way or another, Firepot still made it to many corners of the world this year. 
Back at our Firepot headquarters in West Dorset, we used the time to devise new meals around the family kitchen table. In April, our driers overflowed with wild garlic — a first attempt at a soup recipe which was halted after we realised how many leaves were required for each spoonful. More successfully, we launched our first official breakfast, Baked Apple Porridge. Now our top-selling recipe, it was awarded a gold 'Taste of the West' award in the summer, judged against restaurant-quality meals. In January, our Chicken Keema Curry will become available after 18 months of development, as well as a new Toasted Banana Porridge. 
As we move into 2021, we're delighted to be expanding our distribution from Norway into the rest of Scandinavia. We now have Firepot representatives in Switzerland, Belgium, the Netherlands and Luxembourg too — with packaging printed in five different languages. From January, our meals will be available across the US. You'll also find our food in shops around Iceland for the first time.
We're very conscious of how fortunate we are to have just kept our heads above the waterline. As we expand our menu and begin to distribute on a global scale, we're more grateful than ever to the community that keeps us afloat. Thanks to you, we've been able to hire locally and recruit a spare pair of hands in the kitchen. We've been able to continue sourcing quality ingredients from our butcher and greengrocer of 20 years, and champion sustainable sources. 
So a heartfelt thanks for your support. It has been a lifeline when things have been difficult, with broken distribution systems, lockdowns and the private sorrows suffered by family and friends. But as we transition from this year into the next, our mission is clearer than ever before: we need to value the world's last wild spaces. The natural world has never been more threatened than it is now, as the damage escalates during this sixth mass extinction. Wild spaces saved our sanity after months of being shut in; now it's our turn to look after them, to shop sustainably, consume responsibly and continue to innovate, from finding better waste solutions to reducing food miles in every packet of Firepot that makes it into your hands.
Photography by Michael Turek, Osprey Imagery and Ian Finch