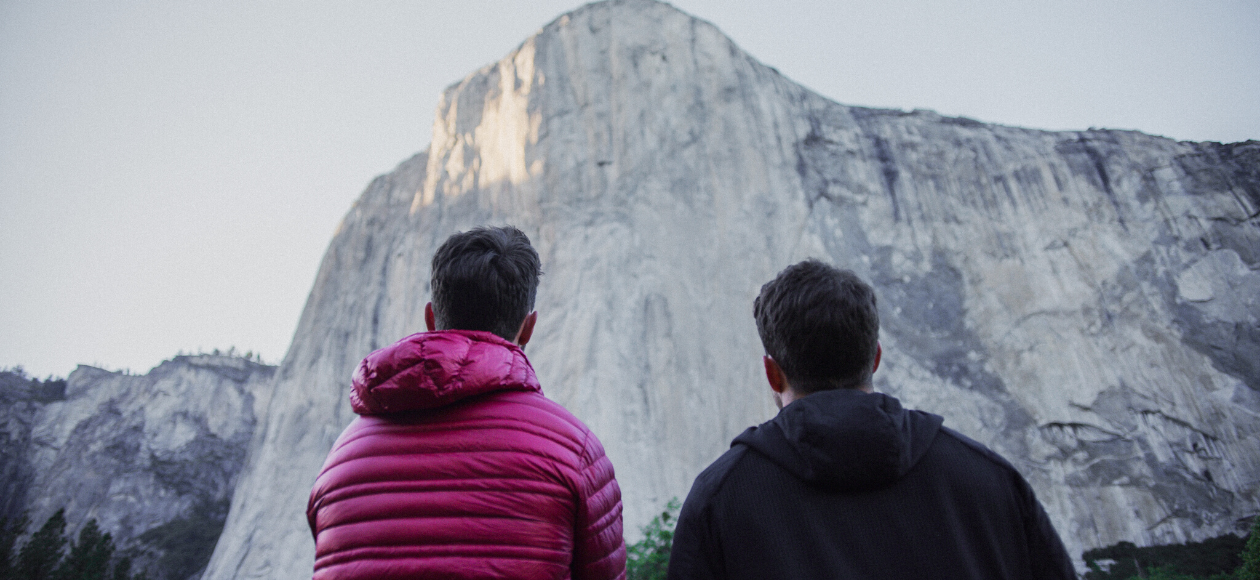 The Tempest Two vs. El Cap
Ordinary people doing extraordinary things. Helen Taylor meets 'The Tempest Two' 
Tom Caulfield, 30, and James Whittle, 29, tell me they are just two ordinary guys from London. Except they're not. Most recently, the pair climbed Yosemite National Park's El Capitan with just 36 months climbing experience and a fair dose of good humour between them. Remarkably, they encountered climbing legends Alex Honnold and Tommy Caldwell on the way up. 
For the last four years, The Tempest Two have taken on adventurous challenges in a bid to prove that with the right mindset, ordinary people can achieve extraordinary things. Their very first gutsy adventure, an ocean row across the Atlantic in 2015, was the start of their life-changing journey. It was then, locked down in the cabin of their ocean rowing boat amid Hurricane Alex, that the pair decided to start a business making a living as full-time adventurers. 
Tom and James met following university, working in the marketing department at Red Bull. "There are just some people you know you can put up with for an extended period of time, and they're pretty few and far between," Tom tells me. After dreaming up the idea of rowing the Atlantic, James was the only person Tom thought to text his crazy idea. 
"When people ask me about adventure, the first thing I say is that the people you do it with will either make it or break it. It could be the best thing you've ever done, or it could be absolute hell, depending on the people you're surrounded by." Of course, teamwork plays a huge part in Tom and James's success. Together, they've paddled uninhabited islands in Sweden, climbed Mont Blanc, ridden London to the Sahara on motorbikes, completed a world-first ultra-marathon in Patagonia, and now, climbed El Cap. What keeps the pair going? "We both find ourselves incredibly funny," says Tom. 
Though rowing an ocean is no mean feat, climbing El Cap certainly matches it in risk, skill, and tenacity. It was James who first conjured up the idea this time, on the Atlantic row, when he spotted the face of El Cap on the homescreen of the pair's MacBook. "It feels cool to have actually done that [climbed El Cap], after pointing at it on a screen four years ago," Tom tells me. 
Before attempting the ascent, Tom and James trained relentlessly, first at indoor climbing gyms, then outdoors across the UK and Europe. "The 18-months of training was really, really tough," says Tom. Not only did they need to learn how to climb, but how to climb outdoors, and most importantly, how to climb trad (traditional climbing where the climber places his own protective gear).
Arriving in Yosemite last October, three weeks before their climb date, there was still an enormous amount of learning and preparation to do. "Everyday we were having to go and do something we'd never done before. We were watching YouTube videos in the morning of how to do something, then we were 800ft up on a rock wall doing it two hours later."
Knowing the ascent was just days away, and with the image of the wall looming large above their camp, life in Yosemite took its mental toll. "Being totally honest, the weeks beforehand when we were living in the park, we were living and breathing climbing every single day. Being two relatively novice climbers, we were waking up with this overarching anxiety the entire time, because it still scared us."
However, when they finally got to the wall on the day of the ascent, Tom tells me they were ready. The climb took 72 hours, with the duo enduring exhaustingly long days and painfully short nights. "It was without doubt the most intense experience we've ever had, purely because we were climbing from 7am to 5am, so you're completely sleep-deprived, you're exhausted, you can barely understand what's going on around you, and you have to tie knots and do systems that are life or death if you get them wrong."
On the first night, arriving bruised and battered at their camp ledge, Tom and James were greeted by the smiling faces of Alex Honnold and Tommy Caldwell. "To have two of the best climbers of all time sitting next to you on a ledge is a real experience and seeing them on the wall is every climber's dream. They didn't have to give us the time of day, but they did."
Arriving at the summit, Tom tells me, was a bit of an anti-climax. It was pitch black and there was still a difficult three-and-a-half hour descent to tackle, with a forbidding repel. It wasn't until the pair arrived in LA a few days later that the enormousness of their achievement sunk in.
Tom reflects, "there were moments when it was very, very daunting, but there were also moments when you're sitting on the most famous rock face on the planet, the stars are out, it's dead silent, and it's pitch black apart from your little head torch beaming around. Moments like that were just breathtaking, it was unbelievable."
So, what lessons from El Cap can the pair bring home with them, to share at schools, corporates, and events? Firstly, trust. "There's no better a manifestation of trust than climbing a big wall. If you're setting up systems for someone else and you don't do your job right, they're going to fall – there's nothing worse than a manager who micromanages and doesn't trust you to do your role."
Also, surrounding yourself with the right people – people that back you, support you and know what they're talking about. "Alex and Tommy fall into that category," Tom tells me. "Just spending a month surrounded by elite climbers, they didn't question whether we could do it, they were just giving us tips to do it."
Fuelled by Firepot, James and Alex took 50 extra-large meals with them to Yosemite last autumn. 
Climbers #fuelledbyfirepot
Tag us on Instagram with
#fuelledbyfirepot
or upload your photos here: