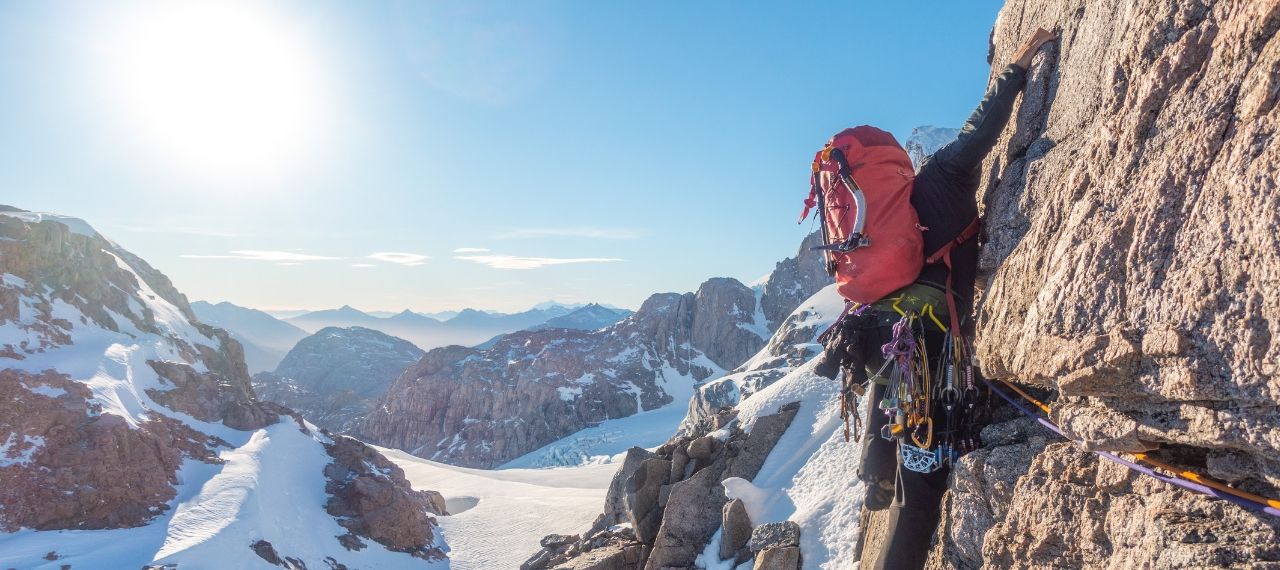 It was while climbing in Patagonia that Itlalian alpinists, Luca Schiera and Paolo Marazzi, first set eyes upon the unnamed, unclimbed mountain that would inspire their next record-setting adventures. They returned to the Andes at the end of 2018 to make the world-first ascent of their mountain. It was a trip characterised by false-starts and sheer determination — as impressive for the difficulty of getting to the mountain, as the climb itself.
On Christmas Eve 2018, Luca and Paolo flew from Italy to Chile to begin an epic quest that would take them to the heart of the Campo de Hielo Norte Glacier. When they arrived in Puerto Bertrand, they were ready to hit the ground running. Yet they soon received news that their gauchos (skilled local horsemen) would be unable to reach them before the new year. Although they were expecting to be guided to the glacier, this didn't stop them from moving on: as soon as a weather window arrived, they set out on their journey alone and by foot — with kayaks in tow for the journey back.  
After completing the 100km hike through the wind-scoured Solér valley in just four days, they reached the empty Campo de Hielo Norte glacier in Patagonia. Here they established basecamp at about 1,600m. Despite making such good progress, they soon encountered terrible weather conditions. Their skin was already blistered from exposure to intense wind and sun, but they sat out the weather for five more days before setting off to reach the start of their mountain climb on January 12th.



That night — due to an early decision to leave their tents behind at basecamp — they resorted to digging man-sized holes into the snow at the base of the mountain. So, with a bivvy bag each for protection, they slept the night in the snow and waited for sunrise.
They woke to perfect weather conditions. Beginning their ascent up the east side of the mountain, they quickly navigated dangerous snow ridges and towers of rock by foot, and reached the sheer rock face of the wall they had dreamed of climbing for so long.
When they reached the peak, they were rewarded with endless views of pristine Patagonian ice fields and snow-capped mountains that stretched into a bright blue sky. From the top, they could also see neighbouring mountains, 'Gargantua' and 'Pantagruel' — both names of French fairy tale characters. It was therefore only fitting to christen their 2,000-metre-high mountain 'Cerro Mangiafuoco' after a fearsome character from Italy's most famous fable, Pinocchio.
They called their new 6c M4 400m route 'L'appel du Vide' — 'The Call of the Void' — a name that hinted at both the wall's dangerous appeal and the very motivation behind the trip. This lure of untouched, unknown landscapes is what leads them to the few truly wild places left in the world, rather than the challenge of the climb itself. "I want to encourage everyone to discover a new place" says Paolo, "there are so many rocks to climb and so many places to go to create your own, very personal adventure."
Paolo and Luca took 40 extra-large meals Firepot meals with them for their expedition to Patagonia.
Climbers #fuelledbyfirepot
Tag us on Instagram with
#fuelledbyfirepot
or upload your photos here: