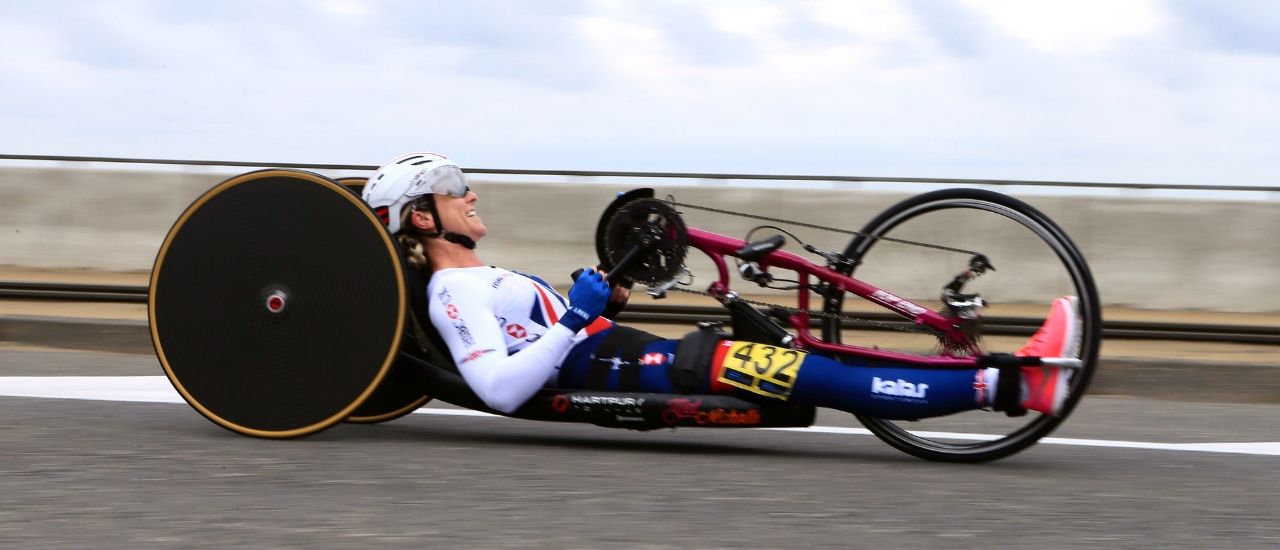 There's an assumption that world records are set by the elite — athletes with the kind of strength, speed and stamina that no 'normal' person could ever attain.  While that's true in some cases, it's definitely not the rule. Firepot looks to the stories of four inspirational British women who, having persevered against all odds and expectations, have excelled in their chosen field and smashed some of the world's biggest records. In doing so, they demonstrate that most limitations can be overcome — it's all about your state of mind. 
Mel Nicholls: Fastest female to handcycle the length of Britain
Mel was leading the active life of a normal woman in her twenties when a series of strokes changed her life forever. In 2008, after her third stroke, Mel was unable to walk or use most of the left hand side of her body. Not content to leave her adventure-filled lifestyle behind, she went from watching the Beijing Olympics from her hospital bed in 2008, to performing on the world stage at London's Paralympics four summers later — just 15 months after picking up wheelchair athletics. She then went on to become a finalist in the Rio Paralympics in 2016. Following this success, Mel decided to move from track racing to endurance road racing, and was selected to be part of the GB Paracycling team in 2017. 
Handcycling brought together Mel's passion for sport and her love of the great outdoors, and has enabled her to take on even more adventurous challenges. This summer, she embarked on one of her most difficult journeys yet: handcycling the 874-mile distance between Land's End and John O'Groats. Firepot fuelled her on her journey. Here, her 'dream big, go far' mentality once again resulted in triumph, when she completed the journey in six days, 22 hours and 18 minutes. Although the time is still to be ratified, she certainly exceeded her ambitions of completing the journey in nine days and smashed the previous world record of 10, which was held by a man. Leading by example, and through her work as an ambassador for Ordnance Survey's Get Outside campaign, Mel inspires people to challenge their perceptions of what is possible. 
Kiko Matthews: Fastest woman to row the Atlantic
It's no secret that having a close encounter with death can be the catalyst for creating complete change in someone's life; yet it's not often that this sparks a world-record adventure, as was the case for Kiko Matthews. Her journey to becoming the fastest woman to row the Atlantic began in 2009 when she was diagnosed with Cushings Disease —  a life-threatening illness which causes tumours to grow on the pituitary gland. Her diagnosis galvanized her to go part-time with her job as a science teacher, giving her time to qualify as a paddleboarding instructor. She then went on to found her own business and set up a charity. Through these new experiences she met Charlie Pitcher — the Atlantic men's solo row record holder at the time — who encouraged her to go for the women's world record. Having never rowed before, Kiko began an intense two-year training period, during which time she had to undergo further brain surgery for a second tumour. This did not deter her.  She went on to smash the world record in 2018, rowing 5,285km from La Gomera to Port St. Charles, Barbados in under 50 days. Her row raised £100,000 for Kings College Hospital.
This summer Kiko took on another challenge: cycling 6,900km around the coasts of the UK and Ireland in order to raise awareness about the plastic pollution problem. Along the way she conducted beach cleans in order to encourage local communities to work together. The 'Kik plastic' campaign accrued 2,000 volunteers and resulted in over 3.5 tonnes of plastic being removed from coastal areas. 
Sian Sykes: First circumnavigation of Wales by SUP
It was after 15 years of working in London's fast-paced advertising industry that Sian Sykes decided to quit her job as a Project Director and moved back to North Wales to spend time reconnecting with the mountains and seas where she had grown up, rather than clocking up 18-hour work days. In Wales, she began her own SUP company, Psyched Paddleboarding, and became a regional representative for Surfers Against Sewage. Her passion for marine conservation led her to embark on a number of stand up paddleboarding challenges to raise awareness about the dangers of single-use plastic, including a world-record breaking unsupported circumnavigation of Wales by SUP last year. This journey was completed without using any single-use plastic, and took her along 1,000km of rivers, canals, roads and ocean where she collected plastic and raised awareness along the way. 
This summer, Sian led her home county of Anglesey to become the first county in the UK to be awarded 'plastic free' status by Surfers Against Sewage. This followed an 18-month campaign which saw businesses, schools and restaurants come together to massively reduce their disposable plastic consumption.
Ann Daniels - One of the first women in history to reach the North and South Poles as part of all-women teams
Ann Daniels, a mother of triplets, knows a challenge when she sees one. When she fortuitously came across an advert calling for ordinary women to take part in the first all-female walk to the North Pole, she committed nine months to training while still juggling three young children. After completing preliminary trials in Dartmoor, Ann qualified to join one of the teams who would make up the first all-female relay expedition to the North Pole. It was a life-changing trip for Ann, who came to realise that she wanted to spend the rest of her life finding ways to protect the Arctic. 
Upon her return to England, Ann and four of her fellow relay team members formulated a plan to become the first all British, all-female team to walk to the South Pole. She enlisted four of her teammates from the original relay team of 'ordinary women' to come with her. They taught themselves how to navigate by the sun and spent 61 days skiing in -56C temperatures, until they completed their 700km journey to the South Pole. Spurred on by this success, Ann enlisted two of her teammates to join her to complete the full journey to the North Pole. In doing so, they became the first all women team in the world to walk to both poles; a record that has never been repeated. 
This was just the beginning for Ann, who has continued to lead scientific trips to the Polar regions ever since, working with many prestigious bodies, including NASA and the European Space Agency, with the aim of contributing valuable information to our understanding of climate change.
In 2020, Ann will be returning to the Arctic and Antarctica to continue her work with the scientific community. 
Image credits to Friction Collective, Nyla Sammons, Ian Finch and MartinRHartley.com