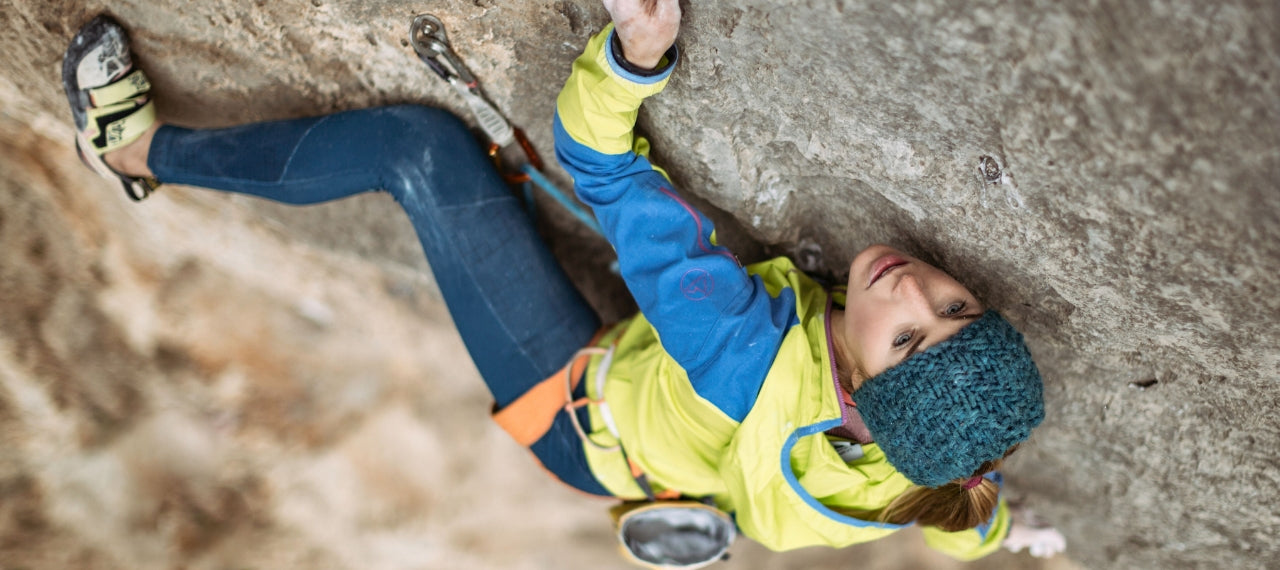 Federica Mingolla: Climbing the Dolomites and beyond
Federica Mingolla is one of Italy's leading female rock climbers. By the age of 14 she was competing against the professionals, but a few years ago, after time spent in Italy's Unghiasse Valley, she decided to give up the artificial walls and dedicate herself to mountains. She has since opened up new lines and explored routes that have never before been scaled by a woman. Federica's journeys have taken her to some of the most challenging rock faces in the world — from the Kondus Valley in Pakistan, and most recently to El Capitan in Yosemite National Park.
How do you prepare yourself for something like El Capitan? I trained for three years on the cracks of Valle Orco near my home and I thought it was enough to make me ready for Yosemite. It wasn't! Yosemite is another world completely. I enjoyed every single day there, but I never felt so tired in my entire climbing career in front of those infinite cracks.
What did El Cap teach you? While I was climbing El Capitan, I felt really small — no other wall had made me feel like that before. Because it's really steep, and there aren't any ledges to break it up, you are always looking into the abyss.
When did you feel most scared? I felt really scared when I led a chimney of 5.8 — so not a particularly difficult pitch in theory — but my protection was too small for the size of the cracks, so I couldn't use it for a few metres. That's when I started to pray.
And when did you feel most alive?  When I climbed a beautiful 5.11d and I stopped to watch the sunset, even though it was the last pitch of the day and I was really tired.  
Top view? The view from El Capitan is incredible. You can see the Half Dome, Washington Column, Rostrum and all the little villages that populate the Yosemite Valley. But my favourite views will always be of the mountains, like the ones from my home in Aosta Valley. I can see Mont Blanc from my kitchen.  
Where next? I'm planning an expedition to the south of Greenland for the opening of the new multi-pitch route on the granite peaks of Ketils Fjord. This wonderful place is also known as the Patagonia of the Arctic.
What will you be looking for in the climb? So long as it's a perfect granite tower in the middle of nowhere on the other side of the world, I'll be happy.
Which climb inspires you most? I think the most impressive wall I've climbed was the south face of Marmolada in the Dolomites. I've done several routes up and each one has left me without words. The quality of the limestone is really high.
And your hardest route?  'La Cattedrale' up Marmolada, which only opened in 1983, has a difficulty level of 8a+, and that's with pitons. There are some pitches of 7c and 7b – and it's 800m high!
If you could only do one climb forever, which would it be? When you climb something really special and you reach the top of the wall you always feel happy and grateful, but you're already thinking about the next climb. That's why it's impossible to answer that question. A climber will never be satisfied. It is our sentence.
What's your guilty pleasure? Chocolate and desserts in general — they're my lifeblood.
What pieces of kit — beyond the obvious ropes and pitons — do you never travel without?  I can't live without good chocolate; it's my energy when I'm on the wall.
What's your biggest regret?  For now, I don't have any regrets. Everything I've done, I choose because I wanted to do it.  Life is a continuous change, we mustn't regret the past.
Federica was #fuelledbyfirepot during her expedition to Yosemite National Park.

Climbers #fuelledbyfirepot
Tag us on Instagram with
#fuelledbyfirepot
or upload your photos here: