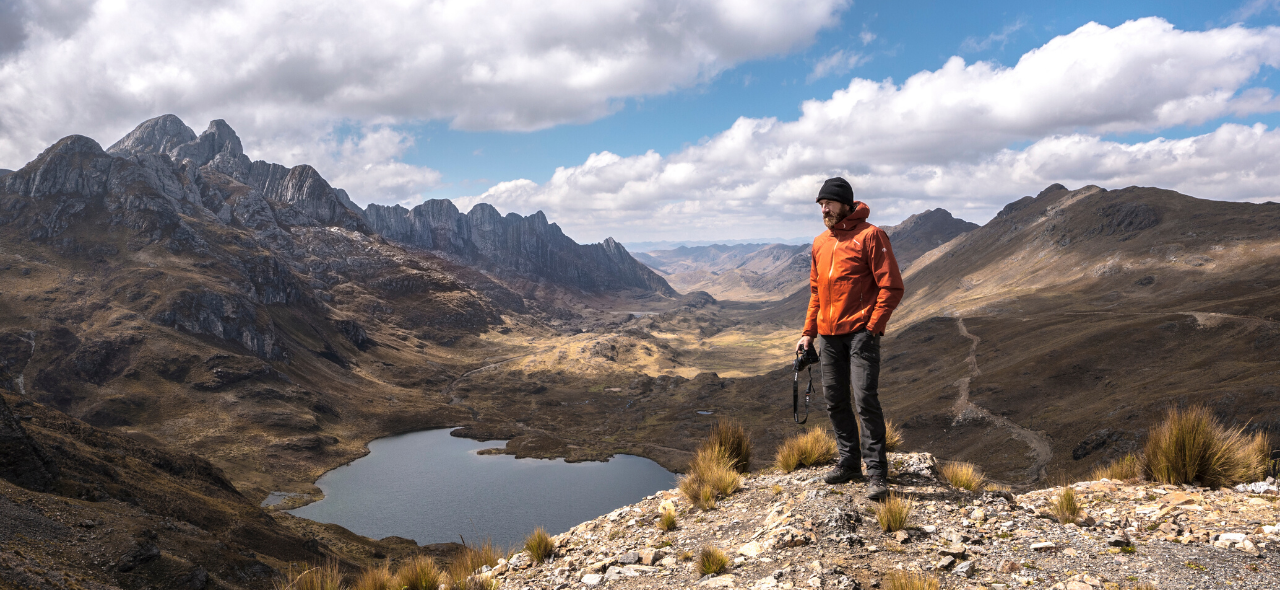 Breaking into adventure film
SkyRise Productions director, Kev Merrey is a busy man. After our interview he's dashing down to west London to talk about two upcoming film projects. This weekend he's travelling to Scotland to film with friend and colleague, Ian Finch. After that he's heading straight to the Pyrenees to film Formula One driver, Mark Webber. 

However, Kev admits that three years ago his schedule looked very different. As a Freeman of the River Thames, otherwise known as a Thames waterman, he travelled from Essex, where he lives now, to London, to moor ships between Teddington and Grave's End, a career which he inherited from his father and began as soon as he left school. 

Although, three years ago, following a brainstorming session in a pub with a fellow dad whom he met at the school gates, Kev decided to embark on a drastic career change. After a kayaking trip to Snowdonia, a hiking trip to Scotland, and a chance encounter with Sean Conway on his expedition to cycle, swim and run the length of the UK, the SkyRise seed was planted. Now, three years later and with some 20 films under its belt, SkyRise is ever-growing, and Kev has plans to branch out from short and feature-length films to television productions. 

Since its beginning in 2016, the team at SkyRise has produced films, photography and magazine editorial with members of the adventure community, Alastair Humphreys, Dave Cornthwaite, Lizzie Carr, Ian Finch and Laura Kennington. Most recently, SkyRise produced videography and photography for the BikingMan Ultra cycling series, and presently Kev is working on a feature-length film called the The Post Runner, following historical 'ultra-marathon' runners who crossed the Scottish highlands delivering post. 
To find out more about the SkyRise journey, Firepot spoke to SkyRise director, Kev Merrey.
You were 40 years old when you started SkyRise, in 2016. Has your background always been in photography?
No, not at all. I've always been interested in photography. I'm quite creative. I've always been able to draw and paint. I've got quite a good eye for composition. But it's only in recent years that I've done professional photography and filmmaking. My background is nautical, working on boats. I fell into the Skyrise work though various things.
So, tell me about your 20-year-long nautical career?
There's a job on the Thames called a waterman – someone licensed to navigate and pilot passenger vessels on the River Thames – which my dad did from when he left school aged 14, so when I left school I went straight to being his apprentice, and he was my master. It's all very traditional. It's one of those unusual jobs that unless you actually see it, you can't picture what it is. It's sort of a dying trade now. My dad saw the last days of that in the 60s and 70s. Some of the chaps my dad and I worked with are now pushing 80, and they're still working on the Thames. 
So, in a sense you're used to working outdoors in different conditions. But how did SkyRise come about?
In 2015, I met a friend of mine, Chris Mayers, on the school run. He's a professional photographer. When we met he'd just been on a trip to Everest Basecamp. One thing led to another, and over a few beers we ended up discussing a few potential trips. We did a kayaking trip in Snowdonia, and went hiking in Scotland, and filmed both of them on GoPros. We put them on YouTube, and quite a few people liked them, and we really enjoyed doing it. 
Then, in 2016 we bumped into Sean Conway on his attempt to become the first man to cycle, swim and run the length of the UK. That was a chance encounter. We were following him on Instagram, so we knew what he was doing. The running part eventually came through Essex, right near where we lived, and Chris went out and met him. 
The next day I went and ran with Sean for three or four miles, we got chatting, and afterwards we connected on Instagram. So we thought we'd ask if he wanted a film made. We didn't think he'd say yes. He came back and said 'yes, just come up to the Lake District with some cameras and we'll make a film'. We couldn't believe it. We'd come up with this idea of starting an adventure film and photography business, and we didn't really know exactly where it was going, but to have Sean Conway as our first client was pretty amazing. 
With the rise of social media and ultra-endurance events in the UK, did you spot a gap in the market for a business like yours?
Yeah, we did. The UK adventure scene has really exploded in the last few years. People see things online with Instagram, and realise that it's quite easy to jump in your car and go off and do some adventurous stuff, and it's good for you. I think as well, with Instagram, people like to post what they're doing, show-off a bit if you like. It's quite handy that there's a platform for people to do that now. 
So, what does it really take to be an expedition photographer or filmmaker?
Most of the stuff I've done, you're really in the thick of it. For instance, this year we filmed four of the six BikingMan Ultra races in Oman, Corsica, Laos and Peru. We were filming a German chap called Jonas Deichmann, a world-record cyclist. We had to stay with him. You're on the same adventure as them, it's quite full on.
We also filmed Ian Finch in 2017 in the Lake District. He was hiking and wild camping for four days right across the lakes, and we followed him the whole way. So we had tents and backpacks on as well as all our film kit, so it's quite hard work, but that's what I specialise in.
If you had any advice for young people looking to get into the adventure film and photography industry, what would it be?
My best advice would be to connect with as many people as you can. Networking is the key. If you're going to start up, get yourself an Instagram account and a website. But just network; if you work with someone, then connect with people that they're connected with in the industry and put your name about. Instagram is a great platform for connecting with people. You can just message if you see someone that you quite fancy working with. But make sure you go to events and meet people. Go to short film events, like Night of Adventure by Alastair Humpreys. That's the way I did it really. 
You've also got to keep on top of the latest kit that's out there because it moves so fast. If you don't, it's quite easy to get behind. I'm often selling stuff on ebay and buying the latest model. 
What have you learnt on the SkyRise journey so far?
I'm always learning. But one of the most important things I've learnt is that there's always going to be someone who's better than you. With some of the people I've worked with, we're always sending film links to each other, saying 'have you seen this?' That's a good way of keeping your stuff fresh. I've always done that. 
Importantly, what's in your kit bag?
I shoot with a Sony A7II, and my go-to lens is a Canon 17-40 f/4 L, which I use an adapter for. I keep that one on there most. I'm thinking of going back to using native lenses for the Sony though. I started with a Canon, then I moved to Sony.
What's on the horizon for SkyRise?
One of the things we've been working on for a few years now is a film called The Post Runner. It's about these guys who used to run across the highlands of Scotland, and they used to carry post, and one of the chaps was the ultra athlete of the day, I suppose. He used to run 120 miles a week carrying parcels and post. They're little-known figures in history. I'm going to be playing the runner, and I'll be wearing a kilt and a sheepskin napsack, carrying parcels across the highlands. That will be in collaboration with Sidetracked. 
We're also planning to be doing stuff for TV in a year or two. We're taking it one step at a time. 
You're a dad of two. How do you juggle being away filming with spending time at home with the family?
Most of the work is laptop based. The Sean Conway trip last year when we were away for a month, well that was a long time to be away from my family. Funny enough, my son has taken a real keen interest in filmmaking, and he's just started sixth form, and he wants to be a director now, which would be lovely. You never know, we might be working together one day. I think I'll take him out on a film shoot soon, one that suits, he'd love it. That's quite cool.
Kev and his team at SkyRise first took Firepot with them as they followed Sean Conway across Europe. Later, they depended on a mix of regular and extra-large portions as they documented Jonas Deichmann and Axel Carion's 1,800km bikepacking adventure through the Peruvian Andes, and then on the Inca Divide — a two-week, 1,600km ultra race on gravel tracks at up to 13,500m altitude.
Instagram: @skyrise_productions