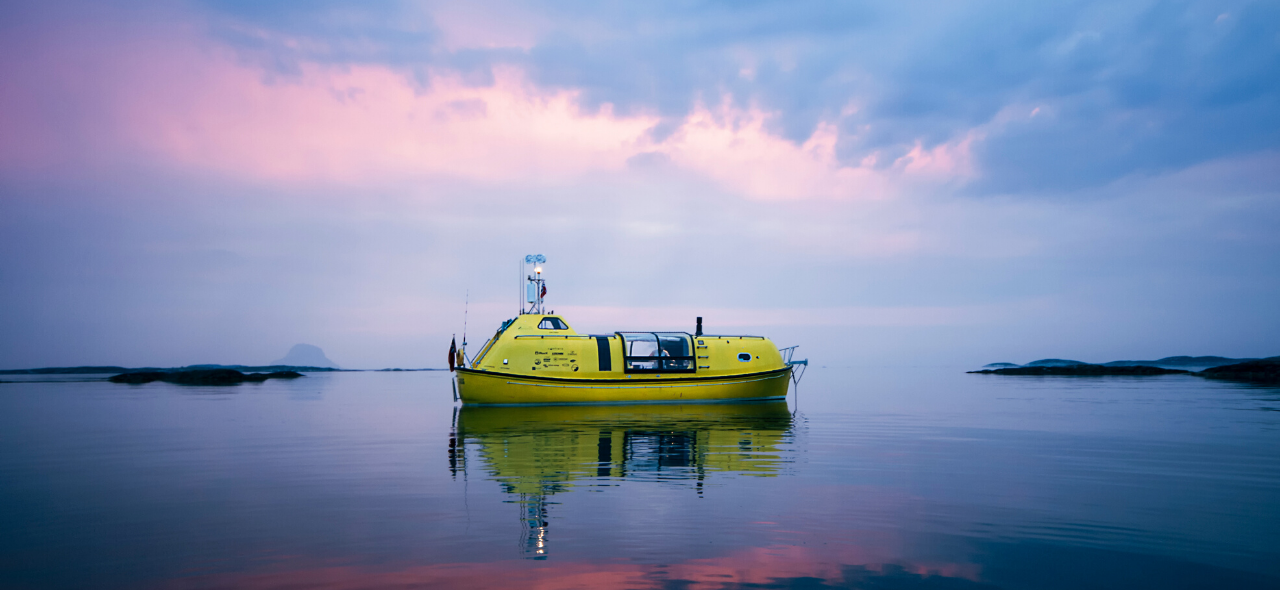 5,000km to the Arctic Circle in an old lifeboat
Aged 28, architects Guylee Simmonds and David Schnabel found themselves dreaming of adventure. When the pair spotted an unused lifeboat on a river three years ago, they saw an opportunity, and set about putting their skills to use renovating the vessel to take them on a four-month, 5,000-long km journey from Sussex to the Arctic Circle. 

As Guylee and David sail through the Norwegian islands, we take a look back at their voyage so far...
You've spoken in the past about the need for escapism. What first gave you the idea for the trip?
David: What originally started as a conversation about an extended hiking trip around Northern Norway quickly snowballed. After spotting a part-converted lifeboat on a river three years ago, Guylee became convinced that it had the potential to become the ultimate adventure vessel. With a trip to Norway already gestating, he then had to convince me it was a good idea. Originally designed to carry 100 people in a survival situation, the lifeboat was a robust, unsinkable and spacious blank canvas. It was this functional aesthetic, its spacious interior and its relative affordability that paved the way for the conversion and subsequent adventure.
What galvanised you to commit to making it happen? 
Guylee: We were both practicing as architects — I was abroad in Haiti and David in South Wales — and we were both working hard, all whilst completing final academic qualifications. The Arctic Lifeboat project was a dream which kept us both going and gave us something to work towards. We both left our jobs in January 2018 and the lifeboat arrived eight weeks later… there was no turning back.

What would you say has most surprised you about the journey you've made?
David: We've gradually learnt that self sufficiency is less about knowing how to source your electricity and food or staying warm, it's more about your ability to solve problems, embrace challenges and learn from them — often under pressure. Lifeboats are not designed for a 5,000km-long voyage, and we've carried out all the conversion work, including the plumbing, electrics and an engine rebuild. Doing all the work ourselves has equipped us with the knowledge and experience to solve numerous technical and mechanical problems along the way.
The lifeboat has given you the chance to access parts of the coastline you may not have been able to get to by land. What has been the highlight for you so far?
We were dwarfed by the scale of Geirangerfjord — the most dramatic of Norway's thousands of fjords that we have been weaving through for the last few months. Geirangerfjord has 1,500m precipices with near vertical cliffs dropping down to the waters below. We were spoilt by an unusual heat wave which made swims from the boat to the glacial waterfalls much more enjoyable.
At sea, we have embraced a life controlled by the tide, weather conditions and currents. Off the Stad peninsula — a fierce headland with a notorious reputation for shipwrecks dividing the Norweigian Sea to the north and the North Sea to the south — we picked our passage well and cruised round in near glassy conditions. We navigated heavy fog where sea and sky met seamlessly at the horizon until the prominent headland broke through.
You knew that Stødig was built to withstand tough sea conditions. What would you say has been the greatest challenge? 
Honestly, it was probably just leaving to begin with and all the preparation that comes with planning. Our adventure did not start when we left Newhaven, but a year before when the lifeboat arrived on a low-loader from Scotland. Reaching the threshold, where we were confident enough in both the boat and our own abilities to take to the open sea, took a huge amount of work, determination and some degree of risk.
What aspect of the design are you most proud of? 
We approached the design as a contrast between a utilitarian functional exterior, and a spacious contemporary and comfortable interior. Being able to come back from a surf, hike, ski or fjord swim and be warm and comfortable, yet retain expansive views out to the land and sea was important to us. We had large existing openings and therefore had to find a way of maintaining this openness in the boat — resulting in our bespoke curved side windows. These windows transform the experience of being aboard and give a constantly changing backdrop to our day-to-day lives. They were also the greatest design and technical challenge we undertook, and we're very pleased with the result.
How is tiny living?
Stødig feels more generous than we originally anticipated, partly due to the large windows, rather than feeling confined. We wanted the boat to facilitate an unrestricted lifestyle both inside the boat and out. For us, that means a large enough kitchen and living area to enjoy life aboard for months, or even years — but also sufficient storage to enable us to take on adventures ashore and on the water with Stødig as our base. We want to be able to surf, hike, snowboard, ski, kitesurf, camp and swim, embracing the landscapes we visit, and not to be restricted by accommodation, supplies, and comfort for long periods. For what is undoubtedly a small space, we never feel like we're living on top of each other as the boat has a great combination of private and communal space.
If you could take Stødig anywhere else in the world, where would you head to next?
Considering the northern location of our next base, Tromsø, we're curious about what lies north and east. The growing accessibility of the North-East passage has sparked an interest in whether we could adapt Stødig to a hybrid electric diesel vessel, and use the voyage to highlight how quickly the seascape of northern Russia is changing due to climate change. Without icebreakers, this once impossible route, is now looking more feasible — even commercially. This would be a far more challenging voyage, owing in part to its remoteness and climate, for both Stødig and ourselves in unfamiliar and unforgiving arctic conditions. The UK to northern Norway was the first leg of an ongoing journey — a perfect test of what our vessel is capable of.
Do you have any advice for people wanting to take time out to go on a long adventure? 
We both recently had the benefit of working for ourselves, which allowed us the flexibility to bring what would typically have to be a side-project to what, at times, became a full-time commitment — juggling this project with our professional workloads, day and night. Having said this,  you don't have to be restrained by a full time job: choose the adventure you want then work out how to make the time and money to enable it. Rather than letting your dreams be diluted from the off by limitations, work through the logistics, the finances and the conflicts in commitments. Most challenges can be overcome by positivity, creative thinking, and perseverance. The hardest thing is to take the leap of faith, believe in your own abilities, and start the journey.
David and Guylee took 50 extra-large Firepot meals on board at the start of their trip, along with 10 adapted 'Fidopot' meals for Shackleton, their dog (available on request). Having finished their journey, they are now stationed in snow-laden Tromsø, where they are enjoying the ski season.